---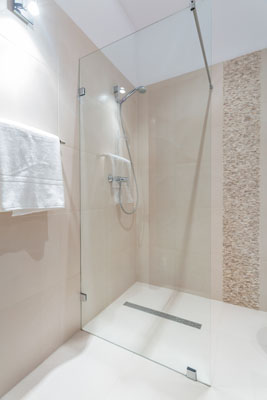 ---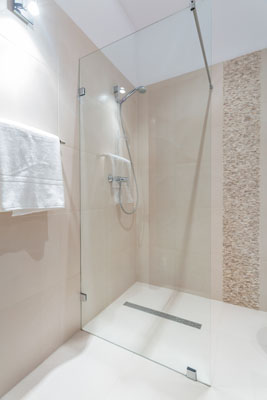 Half-bathrooms, also known as powder rooms, are not uncommon. This is a bathroom with only a sink and a toilet. However, a shower-only bathroom is also a possibility. Granted, this is more atypical, but some homeowners are certainly gravitating toward the idea.
Why Shower-Only Bathrooms Make Sense
Shower-only bathrooms are especially convenient for households with multiple occupants. The regular bathroom (with the toilet) remains free for others to use while you shower. This also eliminates the issue of bacteria spreading from the toilet if you're particularly worried about germs. The toilet seat alone, after all, has about 50 bacteria per square-inch.
Design Schemes
The following renovation tips also apply to regular bathroom remodels but are especially suited for shower-only rooms.
1. Walk-In Shower
Due to the smaller room size, we suggest adding a walk-in shower with a see-through glass enclosure. The presence of the glass makes the room appear larger. Adding a large mirror or two also helps with the illusion of room size.
2. Skylight Design
Homeowners often reserve a skylight for the living room or kitchen renovation. However, skylights also work well in a shower room. Place it directly over the bathtub or walk-in shower. This makes morning and daytime showers especially pleasant on a sunny day.
3. Walk-in Shower and Tub Combo
If you're converting a regular bathroom into a shower-only room, then you might have enough space for a shower/tub combo. This is a shower with both a traditional tub and a walk-in or open shower. This way, you don't have to compromise between one or the other.
We Remodel Shower-Only Bathrooms
DreamMaker of Greenville remodels bathrooms of all sizes, including rooms with only a toilet or shower. Give us a call to determine your remodeling options for such rooms. A shower-only bathroom adds a whole new level of appeal with endless design schemes.
Makeovers for all Bathroom Types
Serving homes and businesses in Greenville and Greer, Mauldin, Simpsonville, Fountain Inn, Taylors, Travelers Rest, Easley, Piedmont and Spartanburg