---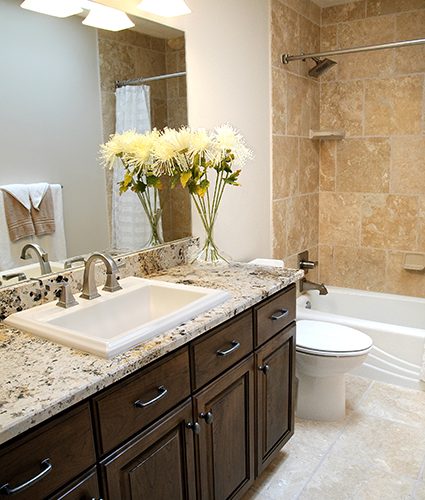 ---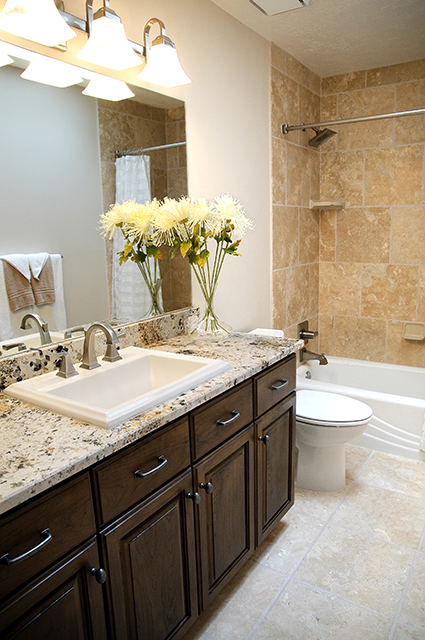 Apartment interiors tend to have a generic and rather uninspiring design. This includes the bathroom, which is compact and leaves little room for décor. However, apartment complex owners can employ apartment bathroom design ideas that make the room more appealing to tenants.
Innovative Apartment Bathroom Design Ideas
1. Extended Countertop
The vanity in apartment bathrooms typically have a plain design. Make the vanity the focal piece by adding a small ledge that extends by one to two feet beyond the vanity edge. This provides some additional countertop space for the hairdryer or soap dispenser.
2. Floating Shelves
Place one or two floating shelves above the toilet. Don't be afraid to place them closer to the ceiling. A shorter person may have to use the toilet as a step to reach the upper shelf. This minor inconvenience, though, is worth the extra storage capacity.
3. Light Colors
Stick with neutral colors. Using plain white for the walls and cabinet is absolutely fine. Bold colors can overwhelm a compact space, making the room feel even more confined. If you prefer some color, then beige and light yellow are good choices.
4. Walk-In Shower
Go for a walk-in shower instead of a tub. Choose a design where the shower floors integrate with the rest of the bathroom floor. This creates a seamless look for a more spacious feel.
5. Large Medicine Cabinet
A large medicine cabinet means a larger mirror. Mirrors are good for making a small room feel bigger. Aim for at least one other wall mirror besides the one above the vanity and cabinet.
We Renovate Apartment Bathrooms
Our commercial remodelers do bathroom renovations for apartment interiors. Call DreamMaker of Greenville to give your apartment rooms a makeover. The above apartment bathroom design ideas will make the rooms more attractive to potential future tenants.
Edited by Justin Vorhees
Apartment Bathroom Renovations
Serving homes and businesses in Greenville and Greer, Mauldin, Simpsonville, Fountain Inn, Taylors, Travelers Rest, Easley, Piedmont and Spartanburg.