---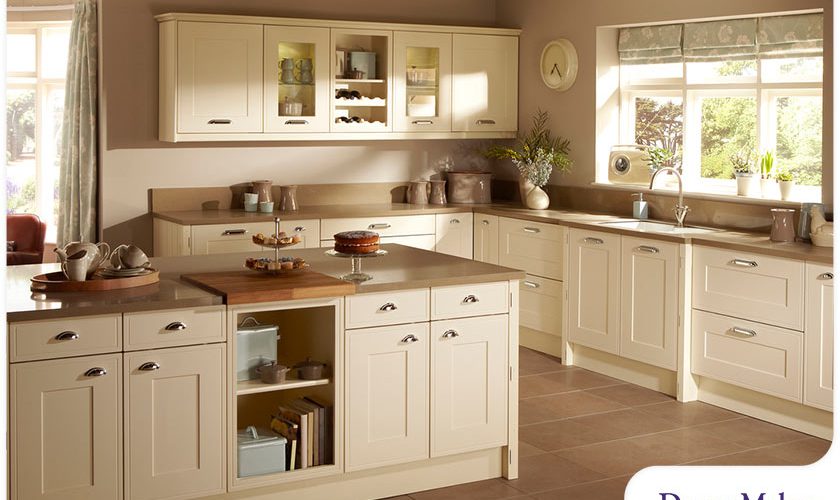 ---
The cottage-style interior design, inspired by the English cottages of the 19th century creates a soft and cozy atmosphere featuring palatable patterns, colors, and accents. Much of the charm of this interior style comes from a familiar and lived-in space, incorporating a hodgepodge of vintage furniture and decor. To help you create the quintessential cottage-style kitchen, a premier kitchen contractor shares some tips and tricks here.
Small-Pane Doors and Windows
A light, airy feel reminiscent of the countryside is the key to a cottage-inspired kitchen. If privacy is not the utmost concern, consider installing an abundance of paned glass throughout the space. For upper cabinets, switch from conventional doors to glass-front units. If you want to keep some items out of sight, hang curtains inside the door.
Wood Flooring
Nothing screams rustic farmhouse than wide-plank wood flooring. Whether you prefer a stained or natural finish, consult a professional so the floors can stand up to the foot traffic in the kitchen and occasional spills.
Beadboards
Feel free to use beadboards — flat planks with one or two semi-circular raised ridges — in a cottage-style kitchen. Beadboards look excellent on ceilings, walls, and cabinets. Complete the look by adding a fresh lick of bright white paint to the surfaces.
Cushioned Seating
Comfort is the hallmark of cottage-style spaces. A kitchen remodeler recommends using a slipcovered sofa or incorporating floral fabrics into the seating area to make it look casual and shabby.
Wicker
It makes sense to use wicker, the oldest method of furniture making, in a cottage kitchen. Natural wicker on your open shelves and counter stools to evoke a sense of nature in your kitchen. You can also spray paint it white to achieve a clean and classic look.
Nature Colors
Furnishings in cottages are often white — from whitewashed cabinets to slipcovered sofas — to make the room feel airy and bright. But do not hesitate to take it up a notch with pops of vibrant colors. For example, cottage-style homes near the coast have a primary palette consisting of blues and yellows. These simplistic hues are easy on the eye and are neither too pale nor too intense.
Let's Start a Conversation!
DreamMaker Bath & Kitchen of Central Texas is a design-build company specializing in bathroom and kitchen remodeling. When you partner with us, we will listen attentively to your ideas and goals and walk you through all your options so you can make the best decision for your home. Call (254) 523-6699 or fill out our contact form to schedule a consultation with a contractor near me. Our service areas include Waco, Gatesville, Whitney, Lorena, Hewitt, Crawford, and nearby areas.