---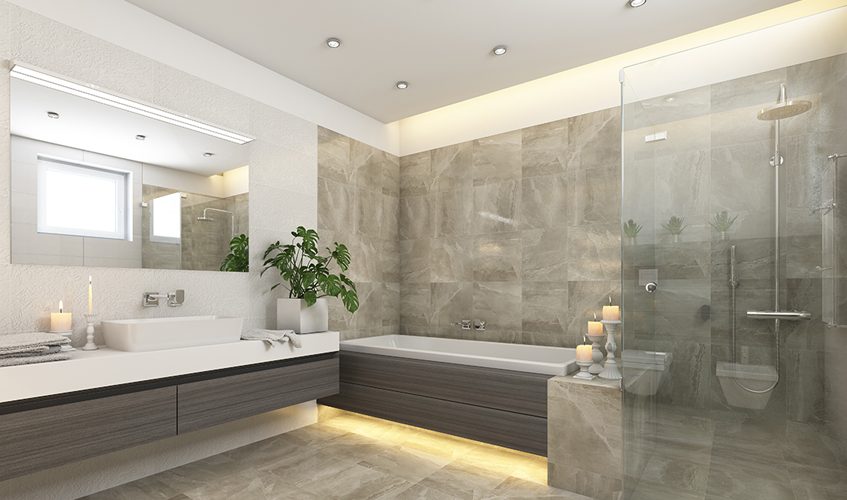 ---
If you're planning a bathroom remodeling project in Ann Arbor, MI one of the most important features to consider is flooring. Bathroom flooring is available in a large variety of materials, and each comes with a distinct set of advantages and disadvantages. While a professional home remodeling contractor will be able to discuss each option with you in great detail, having a basic familiarity with the types of available materials is important. To ensure you're satisfied with your bathroom remodel, consider these popular bathroom flooring options when planning your project.
Ceramic and Porcelain Tile
While ceramic and porcelain tile are technically two separate options, these materials are quite similar in quality and price. The biggest advantage of choosing ceramic or porcelain tile for your bathroom floors is the large variety of designs available.
Natural Stone
Marble, granite, limestone and other stone flooring options are the luxurious choice and come with a heftier price tag than other flooring options. An advantage to stone flooring is its durability when it comes to moisture. This flooring option has less moisture problems and is very attractive. However, it can be cold and slippery. Though stone floors are far more expensive than other options, they return excellent resale value.
Laminate
Laminate is more frequently used as a flooring material during kitchen updates, but it's quite functional as bathroom flooring material as well. It's somewhat susceptible to water damage, but installation, maintenance, and cleaning are simple.
Vinyl
Your contractor will likely mention vinyl bathroom flooring as well. Vinyl comes in both sheets and individual tiles. This material is cost effective, durable, and easy to install. With few disadvantages, it's a very good choice for bathroom remodeling projects.
Need Professional Assistance Choosing the Right Bathroom Flooring Material?
With so many bathroom flooring options to choose from, it can sometimes be difficult to identify which is best for your home and lifestyle. If you're having trouble, it's time to speak with a professional. Contact DreamMaker Bath & Kitchen of Ann Arbor to get an expert opinion. Our remodeling professionals are highly-trained and experienced in kitchen and bathroom remodeling. Give us a call or visit the Design Center today. We look forward to meeting you!