---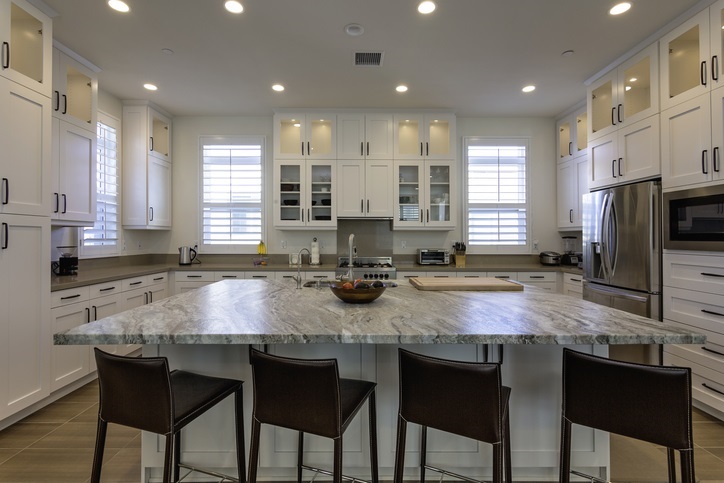 ---
Ask anyone who spends a lot of time working in the kitchen what they want most on their renovation wishlist, and you're bound to find that more countertop space and better countertop design are among the things most often included in a contemporary kitchen remodel. Building codes may not strictly specify measurements, but if you follow smart design principles, you can do a lot to maximize countertop space.
Length Matters
The linear countertop frontage recommended by designers is a minimum of 158 inches, or just over 13 feet. This can pose difficulties for homeowners who have to work with a small galley or L-shaped kitchen that can't accommodate this amount of countertop space.
Soft Edges
Sharp, 90-degree edges? Popular in the 1970s, Formica and metal-edge banded countertops have thankfully gone out of style. Today's countertops typically feature rounded or clipped edges which don't only prevent bruises, they also circumvent long-term problems like countertop cracking.
Counter Depth
Ideally, the distance from the edge of the counter to the wall or backsplash should be 24 to 25 inches deep. Nearly all counters are manufactured to this specification.
Adequate Space Above
Countertop appliances such as blenders and microwaves have made more vertical space above counters a necessity. Allow minimum space of 15 inches between countertops and the undersides of wall cabinets.
Need Help From a Pro?
DreamMaker Bath & Kitchen of Wooster is proud to be one of the most trusted bath and kitchen contractors in our area. We know your home is important to you. We guarantee that you will be provided with only the best products and services around, ensuring you make the most of your home improvement investment. To learn more about what we can do for you, just give us a call at (801) 203-3307.