---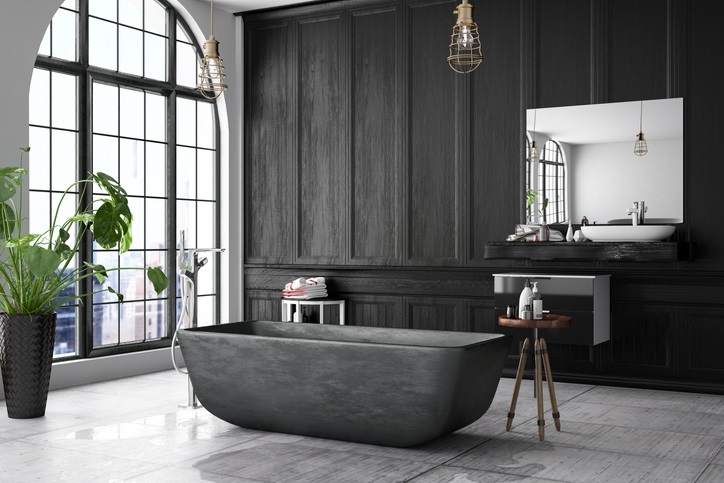 ---
Black is beautiful and when it comes to bathrooms, black is certainly seeing a big resurgence. After years of an all-white period in interior design, black is bringing a chic, more modern feel to the home. Here's what you can do to make your black bathroom one of the most stunning features in your home.
Play With Finishes
Use a variation of fixtures and finishes in your design to give the room visual interest. Make the monochromatic look work better by using various shades of black. Play with textures as well. One popular trend is using an almost bleak-looking tile on the floor, then a deep black, glossy paint — so glossy it reflects things back — on the walls. Alternatively, use black-and white penny tiles on your bathroom floor for a vintage look that is always chic. Or try using black faucets and other similar bathroom accents that will add the panache you're seeking with a bathroom renovation.
Play With Light
Black can be a bit off-putting, especially if you're using it in a dimly-lit space. If you're going to pull off a black bathroom successfully, pay close attention to your lighting. You don't want the glare of white light, but a warm golden light will add character, especially if you choose discreetly placed overhead pin lights or sconces.
Mix in Metals
For that little extra touch of luxury, use metals to accentuate your bathroom's features. Choose faucets and handles, wall sconces and even waste cans in a metal finish to add that extra little bit of class and warmth to the room. Consider gold, pewter, gunmetal or copper accents, which are the metal tones of the moment.
DreamMaker Bath & Kitchen of Wooster has top-notch bathroom contractors that understand remodeling needs are personal. You can count on us to deliver results based on what will truly work for you. Whether it's a stunning bathroom in black or some other remodeling idea that holds appeal, the gift of remodeling really keeps on giving. To learn more about our home upgrade capabilities, just give us a call at (801) 203-3307.