---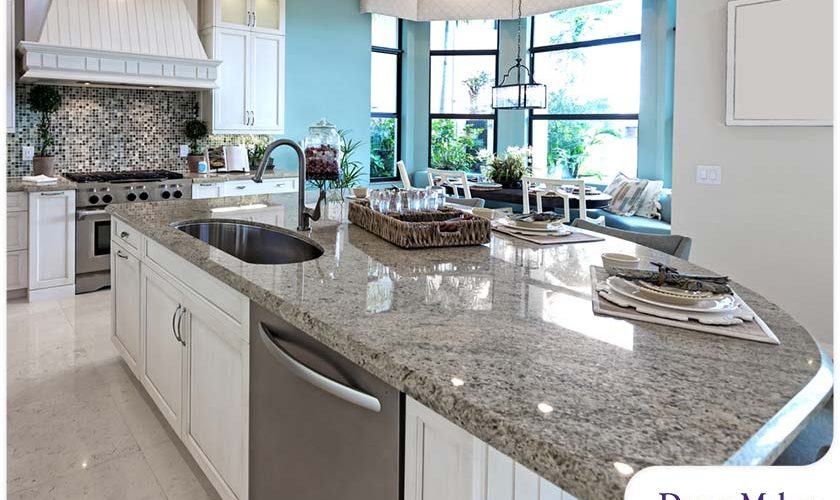 ---
When planning a kitchen remodeling project, you'll need to choose many materials, colors and styles. One of the most prominent features of the space is countertops. When selecting a countertop material, you need to consider various factors such as maintenance, your home's architectural design and your lifestyle. Today, discover whether prefab or slab granite is better for your kitchen countertops.
Pre-Fabricated vs. Slab Granite
Usually called prefab, pre-fabricated granite is manufactured at a facility and available in pre-cut pieces. At the factory, workers cut the pieces, finish the edge details and ship the slabs in containers. This type of granite is ready to be installed.
Another option you have for your kitchen countertop is slab granite. This countertop material is made from naturally occurring granite. It is cut into slabs to be used in apartments, homes and commercial structures. You'll usually see these slabs at local fabricators.
What Are the Differences?
Both prefab and slab granite offer the authentic look and feel of granite. Many times, only expert kitchen remodelers can distinguish between the two. They are both easy to maintain and clean, but you need to have them sealed for protection against stains and scratches.
Prefab granite usually comes in standard measurements, but the slabs can be custom-cut to fit unique kitchen countertop designs. When it comes to colors, you also have more options with slab than prefab. Many homeowners prefer granite slabs because they can be made with custom edges while prefab granite comes with a standard bullnose edge. However, more manufacturers are now offering more edging options on prefab slabs.
Which Should You Choose for Your Kitchen?
When choosing between prefab and slab granite, it is essential to understand that both are made of natural stone. They will need more care than laminate, and you need to take care of these materials to avoid staining, chipping and scratches. If you want prefab granite, make sure to hire a reliable installer. However, if you want your kitchen to stand out and look more unique, you can always opt for slab granite.
Design Your Dream Kitchen With DreamMaker
Let DreamMaker Bath & Kitchen of Wilmington help with your dream kitchen design. Call us at (910) 212-5889 or fill out our contact form to start a conversation today! We work with homeowners in Landfall, Wrightsville Beach, Marsh Oaks and nearby communities.