---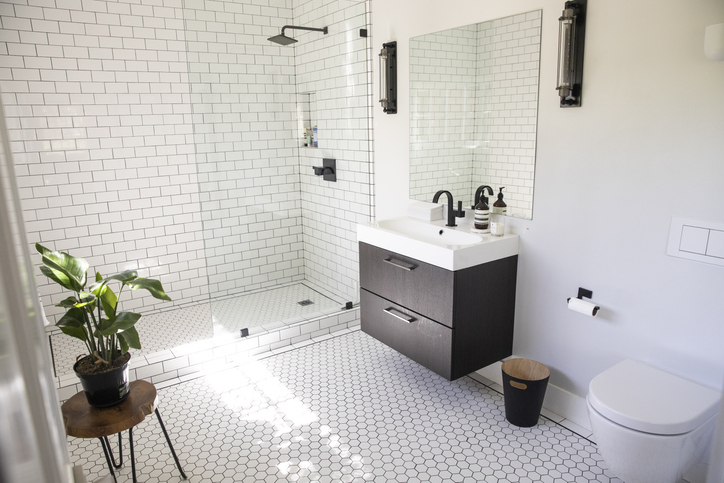 ---
The bathroom is often one of the easiest places to start making eco-friendly changes. From zero-waste shampoo bars to reduced water usage, there are many simple things that you can do to make this space environmentally friendly. If you want to take it up a notch, plan your bathroom remodeling project with sustainability in mind. Typically, an eco-friendly bathroom design aims to use sustainable materials, minimize water usage, keep indoor air clean and utilize energy-efficient lighting.

Ditch the Tub

To meet your water conservation goals, consider ditching the tub and opt for a water-saving shower instead. On average, a full bath uses 70 gallons of water, while a five-minute shower can only take 10 to 25 gallons. If you still want to keep your tub, try to limit your use to once a month to conserve water.

Opt for Low-Flow Fixtures

Low-flow fixtures are designed to use high pressure to deliver less water with more effect. The fixtures provide enough water to remove soap from the body and shampoo from the hair using a lot less water. In fact, low-flow fixtures can save the average family about 3,000 gallons of water per year.

Use Sustainable Flooring Materials

Your bathroom remodeler can give you several options for sustainable flooring. Terrazzo, recycled glass tile and natural stone are just some of the eco-friendly flooring materials that you can use for your bathroom. Each of these materials has its own characteristics, so study the features carefully.

Choose 'Green' Bathroom Products

As mentioned earlier, there are many eco-friendly bathroom products on the market today, from toiletries to skincare. Even items like bath towels and shower curtains are available in sustainable materials such as organically grown bamboo, organic cotton and non-vinyl shower curtain alternatives.

Let's Start a Conversation!
DreamMaker Bath & Kitchen of Tyler offers a full-service remodeling approach to meet varying kitchen and bathroom renovation needs. Our team will work hard to complete your project in an efficient manner and minimize disruption to your life. If you live in Swan, New Chapel Hill or Whitehouse, call us at (903) 255-7111 or fill out our contact form to start a conversation!