---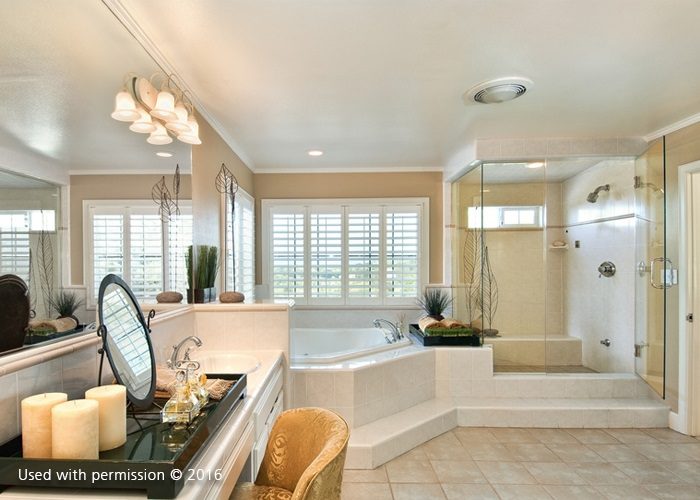 ---
Considering what we put them through each day, our bathroom sinks, showers, tubs and toilets deserve the best cleaning attention. Planning to renovate your bath soon? Now is your chance to create your personal oasis and cut down on that less-than-glamorous bathroom cleaning to-do list.
DreamMaker Bath & Kitchen of Tyler, your go-to bathroom remodeling company, shares some tips to speed up future bathroom cleaning jobs.
Say No to Grout
Grout lines can be very difficult to clean; no wonder a lot of us consider this our least favorite chore when cleaning the bathroom. Eliminate this task completely by choosing solid-surface alternatives for your walls. Stone slabs, for instance, have minimal seams. Caesarstone is also a great option for brown walls and bathroom countertops. Other alternatives include vinyl wall coverings, back-painted glass and paint.
Go For a Linear Drain
If you choose to install a linear drain, your shower floor will have a slight slope in one direction. Your contractor can install the flat drain right into the tiles of your shower floor for a sleek, streamlined look, and run the tile right up to the drain (rather than using smaller tiles to accommodate multiple shower slopes as with a traditional shower drain). If you choose a large-format tile, this will free you from some of the hassles of grout cleaning.
Go Frameless
Most glass shower doors have aluminum frames that easily collect gunk. Choosing to go frameless with your glass leaves only a simple sheet to squeegee clean. Plus, there are plenty of coating options for glass that also help repel water and soap scum.
Bathroom Cleaning Made Easy
Whether you want more cleaning tips or are interested in our master bathroom remodel solutions, contact DreamMaker Bath & Kitchen of Tyler today to start a conversation! Get in touch with us at (903) 253-0165 and we'll be happy to set up an appointment with you.