---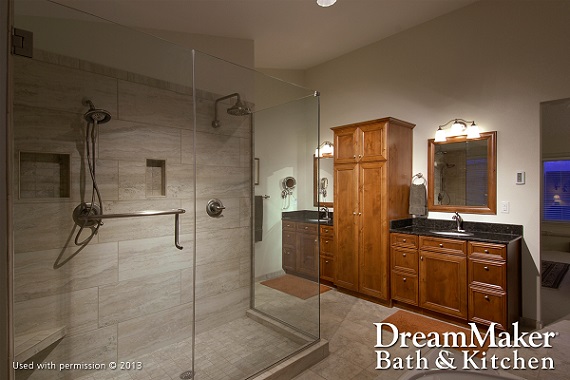 ---
The bathroom typically serves as a place where you can relax after a tiring workday and enjoy a few minutes of privacy. However, if it doesn't look pleasing and doesn't have features that encourage relaxation, it will be difficult for you to appreciate it. If this is the case, then it's probably time you had your bathroom remodeled.
One way to maximize your bathroom's potential is to turn it into a custom shower. Here are the essential components that shouldn't go missing in this project.
1. Specialty Shower Head
Deciding to replace bathtub with shower can help maximize the space, giving you more room to move around. However, removing the bathtub would mean taking away a primary relaxation component. To compensate for that loss, it's best to install a specialty shower head. There are a lot of options available today. You can get a rain shower head that's designed to mimic rainfall. There are also massager shower heads that can help give you a spa experience.
2. Sufficient Counter and Storage Space
Clutter is annoying no matter where it may be. If your bathroom lacks sufficient storage space, there's a tendency that items will pile up on the counter, if you have one. By making sure that there's enough storage for towels and toiletries, among other items, your counter will be clear of clutter. If your bathroom doesn't have a counter, then now is the time to consider having one constructed.
3. Well-Designed Lighting Setup
Soft lighting in the shower can help you relax further, while bright lighting is required for activities like shaving and applying makeup. Make sure that the lighting plan addresses your different needs.
4. Safety and Accessibility Features
Will the shower be used by an elderly or someone who has mobility limitations? You should consider aging-in-place features including a walk-in shower, safety bars, non-slip flooring, and a wider doorway. These will ensure improved safety and accessibility.
Bring the Shower of Your Dreams to Life with DreamMaker Bath & Kitchen of Tyler
If you've been on the hunt for bathroom remodeling contractors that can bring the custom shower or bathroom of your dreams to life, you're at the right place. DreamMaker Bath & Kitchen has everything you need to turn your old and boring bathroom to a spa! Call us at (903) 525-6161 today to talk to our design and remodeling specialists. You may also fill out and submit our online form and we will get back to you the soonest time possible.