---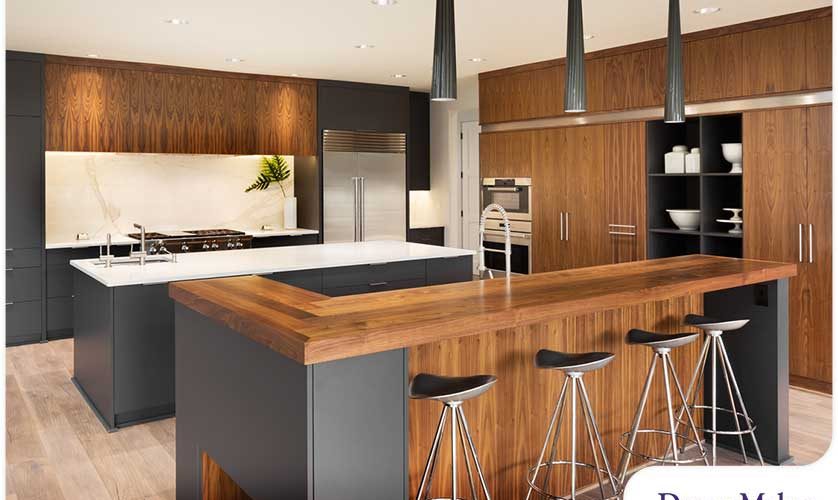 ---
The two-island kitchen layout is famous for maximizing counter space and storage solutions without compromising aesthetics. It can also be beneficial for separating cooking areas from meal prep areas. However, it is crucial to consider the drawbacks before deciding whether it is the proper layout for your kitchen remodel.
Advantages of a Two-Island Kitchen
A two-island kitchen will allow you to take advantage of the following benefits:
Increased Storage
More space for cabinetry and drawers in both islands provides ample storage for large items, small appliances, pot racks or cookbooks. It also removes the need for upper cabinets.
More Counter Space
Cooks love two islands for meal prep and cleanup. Having two work locations makes dinner preparation easier and more organized.
Flexibility in Design
An extra island gives you more kitchen color and arrangement options. Installing stools around these worktops can let family members — or visitors during dinner parties — have relaxed chats during mealtime without taking up crucial dining table space.
Disadvantages of a Two-Island Kitchen
Before you decide, consider these possible drawbacks of having two islands in the kitchen:
Cost
Installing a two-island kitchen will incur more expenses. This is due to the additional cabinetry, more workers needed to assemble the islands, more countertop materials required and a bigger backsplash.
Space Requirements
Ensure adequate space for the islands and for people to move around easily. When numerous individuals are helping cook, they need enough room to maneuver without hitting furniture or equipment.
Difficulty Cleaning
Organization is essential for extra cabinets and surfaces as maintenance can take time away from other activities. Avoid this type of kitchen layout to save time in cleaning up.
Considerations When Choosing a Two-Island Kitchen
When looking to include a two-island kitchen as part of your home makeover, these are other crucial elements you need to examine:
Budget
Having an initial estimate of the costs of your project can help you prepare for the expenses and ensure you have enough money for all necessary materials.
Design
Choose materials that fit together nicely and integrate color coordination, and use theme setter appliances to better use available space. Lighting plays a vital role in reflecting off different surfaces.
The two-island kitchen is ideal for enhancing your existing kitchen while making it more functional. Choosing this layout can help create a beautiful and efficient working area, as well as provide excellent opportunities for entertaining friends and family after meal preparation.
Let's Start a Conversation!
We aim to provide you with a kitchen worthy of being the ultimate gathering place. Our kitchen and home remodel experts will communicate with you throughout the kitchen renovation process. To get a quote from DreamMaker Bath & Kitchen of Tyler in Tyler, TX, contact us at (903) 255-7111 or fill out our online form! We work with Swan, New Chapel Hill, Whitehouse, Noonday, Douglas, Arp, Troup, Bullard and Flint homeowners.