St. Louis Park - Remodeling Case Studies
Enertainment Kitchen: Setting the Stage
Project Name
Enertainment Kitchen: Setting the Stage
Project Summary
Our retired clients love to entertain and travel. The wife, an avid cook, now has her dream kitchen: a large open entertainment kitchen with a colossal island for guests to gather around while she performs her gourmet magic for them at her custom culinary stage. The focal point is the stone island top with dramatic edge-to-edge veining. Personalizing the space are lighted glass upper cabinets to display treasured travel mementos. The eye-catching mix of finishes was selected to marry with existing original finishes in the rest of the house yet make a fresh updated statement.
Project Story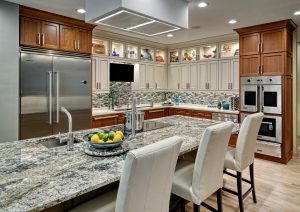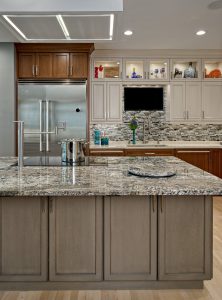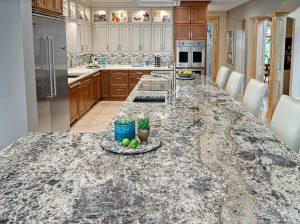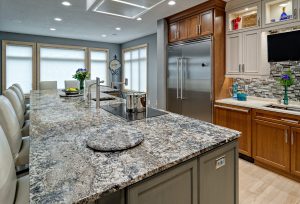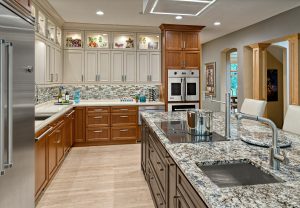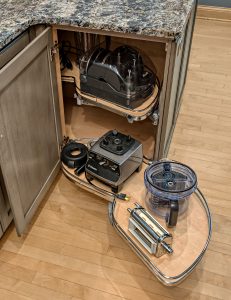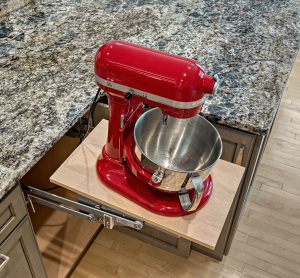 Photography by Mark Ehlen, Ehlen Creative
Project Category
Kitchen Remodeling
Job Category
Traditional Kitchen
Services Performed
Carpentry, Demolition, Designing, Electrical, Flooring, Installation, Lighting, Painting, Plumbing, Sheet Rock
Why DreamMaker
Our clients chose us to complete their kitchen remodel because they felt we were a good fit with their project. After reviewing our portfolios they knew we understood their agenda and ideas and could pull them together in a way that would compliment the existing spaces in their house. Also, they would be traveling during much of the remodel and they trusted us to work in their home in their absence. Here are a few images of their original kitchen.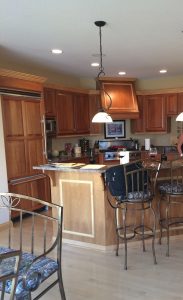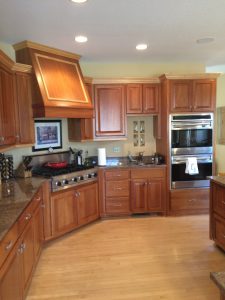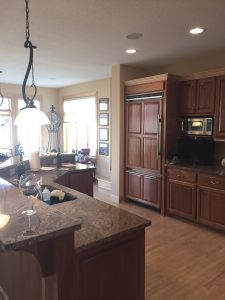 How does the remodel enhance the client's life
This couple is reaping the rewards of their dream kitchen. Their former kitchen had ample space but wasted much of it. The room needed to function as a cooking/entertainment room seating eight, travel mementos needed display space, they needed space to store collections of cooking gadgets and serving ware, they wanted an aesthetic "wow" factor, and finishes needed to be coordinated with adjoining areas. Function-wise, the new kitchen is even better than they imagined. We squared-up the room, and to create a large entertainment kitchen, installed a colossal island to replace the former small angled island and separate table. Its L-shape seats eight and creates the "stage" for the wife to cook unimpeded but entertain guests at the same time, which she loves to do. Topline appliances, a European working sink with TV mounted above, second island sink, and pot filler at the cooktop are fit for a gourmand; recessed lights and a semi-recessed vent fan preserve sight lines. Travel treasures are presented in lighted upper wall cabinets. Ample storage is gained in additional cabinets and efficient interior accessories, such as the mixer lift and pull-out corner cabinet. Aesthetically, they are enthralled with the look of their kitchen. A show-stopping granite island top incorporates a wide vein meandering from edge to edge; two slabs were meticulously seamed to highlight this beautiful grain. Three matching granite lazy susans assist serving. Perimeter counters are alabaster quartz. Cabinet finishes are a mix of stained wood perimeter cabinets matching existing cabinetry in adjoining areas, bone painted uppers, and island cabinets of a taupe pulled from the granite. Glass backsplash tiles reprise the granite colors and reflect light. We patched and refinished the existing hardwood floor. All told, it is hard not to be impressed!
Customer Testimonials
Our clients were enthralled with the look and function of their new kitchen. Hosting gatherings of family and friends has become so easy and enjoyable for both hosts and guests, creating many memorable occasions for all of them. This project was a Silver COTY award winner from MN NARI.
City
Minnetonka
State
MN
Who did the work
We designed and produced this kitchen remodel in house, with our designers, production manager, office professional, and carpenters working as a team, along with subcontracted trade professionals.
Share this project: