---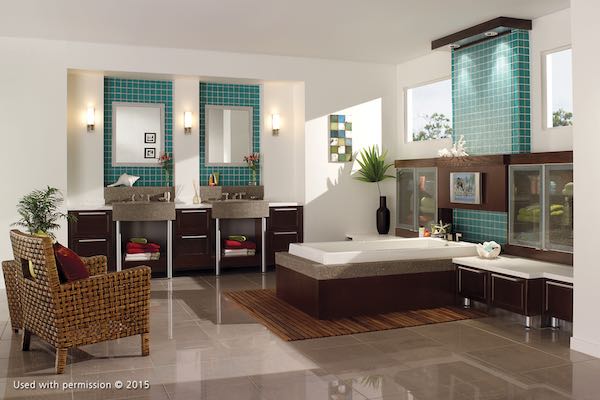 ---
When was the last time you had a spa day? How would you like a spa-like space in the comfort and privacy of your home? Good news: with help from your local remodeling company and a few small but clever touches, you can transform your bathroom into your own personal oasis.
The Wish List
Multifunctional shower. Install a massage showerhead, a rain shower or a multi-jet unit with all the frills. The combination of warm water, adjustable pressure and targeted jets will help you relax as you clean up. What's not to love?

Smart storage. There are two schools of thought when it comes to storage: hide it and display it. You'll need a mix of both in a bathroom. Keep toiletries, toilet paper and towels out in the open and within easy reach in curated bins and baskets. Hide cleaning tools and products behind vanity doors. The key is to cut down on clutter and then organize what you can't cut.

Heated floors. This is a low-key luxury that will make you feel like royalty the moment you set foot in your bathroom. And it's not as expensive or as difficult to install as you might think!

Mood lighting. Dimmers are a great feature to include in the tub or shower area, where most of the relaxation magic happens. You can also use candles to set the mood.

Quality linens. Be picky when it comes to bathroom rugs, shower curtains, and bath and hand towels. You'll be surprised what a big difference linens can make!

Plants. No oasis is complete without greenery. Make sure the plants you choose are suited to the conditions in your bathroom. Pothos, cast iron plants, philodendrons and snake plants are popular choices.

Scent. Subtle natural scents work best in bathrooms. Candles, essential oil diffusers and reed diffusers are great choices because they tend to smell less artificial than sprays.

Sounds. Keep a waterproof bluetooth speaker in the bathroom to round up your in-home spa experience with some Enya or nature sounds.
We'll Create the Magic For You!
Get in touch with DreamMaker Bath & Kitchen of the Southern Lakes to request a free bathroom remodeling price quote and consultation. Just give us a call at (262) 923-8721 or fill out our online contact form. Our office in Union Grove is open from 8 a.m. to 5 p.m. Monday through Friday and on Saturdays by appointment.