---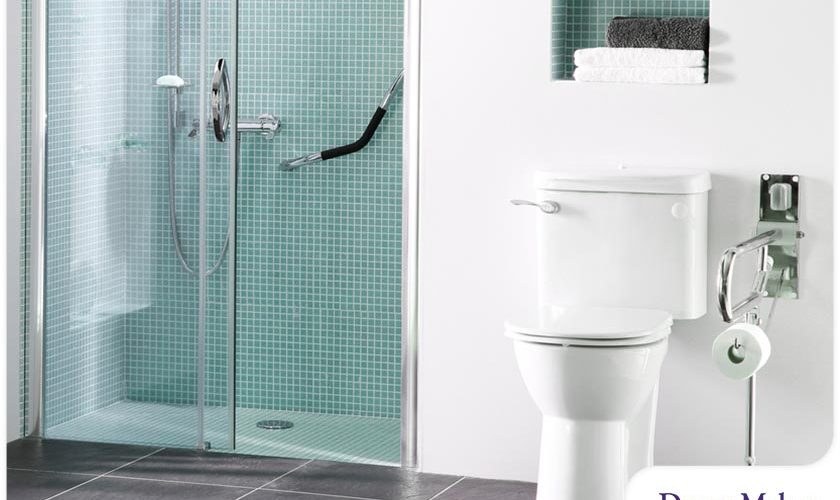 ---
Accessible bathrooms help address some of the biggest daily inconveniences experienced by people with mobility issues. They include certain features and fixtures that improve user safety and independence. Trusted mobility remodeling expert DreamMaker Bath & Kitchen of Southern Lakes discusses some of them here.
Accessible Features
A Raised Toilet Seat
Standard toilets can be difficult for people with mobility issues to use. Some may experience discomfort when using low seats; others may find it physically taxing to transfer from a wheelchair or walker to the toilet. An accessible toilet is taller than a standard toilet at 17 to 19 inches in height. If toilet replacement isn't an option, a thicker seat can be installed to add height to an existing toilet.
For some users, wall-mounted toilets may be recommended because they provide the toe and foot clearance that may be necessary for movement.
Grab Bars
Grabs bars are a great addition to any universal bathroom renovation project. They provide stability and reduce the likelihood of injuries from slips and falls.
Bathroom designers recommend installing at least one grab bar to one side of the toilet at a distance of 18 inches to the nearest wall or fixture. Ideally, they should be installed on both sides of the toilet seat, behind the toilet seat and the area around the vanity. Standard grab bars are fixed to the wall, but there are hinged types that can be installed on the wall behind the toilet and pulled out when needed. This can be done in bathrooms where the side walls are too far from the toilet.
Extra Floor Space
An accessible bathroom requires plenty of space to accommodate a cane, walker or wheelchair. The area around the toilet, in particular, should be clear of obstructions like trash bins and rugs that might constitute a tripping hazard or otherwise hamper movement.
A Wider Doorway
Speaking of space, the entryway of the bathroom must be wide enough to accommodate mobility aids. There needs to be a clear width of 32 inches from the door's face to the opposite stop to allow for wheelchair entry. The bathroom door should also be lightweight and have a horizontal grab bar on the inner face. Pocket doors are another good alternative.
Let's Start a Conversation!
Trust the kitchen and bathroom remodel experts at DreamMaker to transform your home into a safer, more accessible and more comfortable environment that fits your unique needs. Give us a call at (262) 500-3689 or fill out our contact form to schedule an online appointment or visit to our design center. We serve homeowners in Union Grove and the nearby areas, including Kenosha, Racine, Burlington and Lake Geneva.