---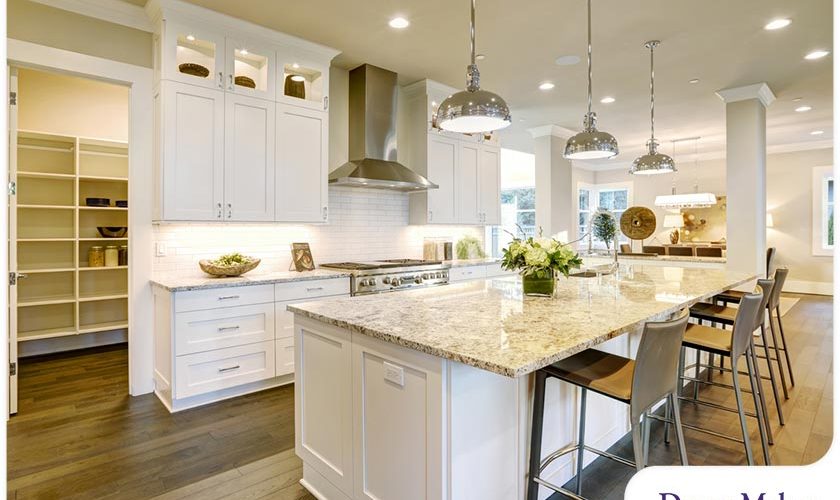 ---
There really is something to be said about clean, sleek lines paired with high functionality – which is why when it comes to kitchens, contemporary design has been steadily gaining popularity for years. Not to be confused with modern design, which refers to an actual historical design movement, "contemporary" simply means what's happening at this moment in time.
When you ask your home renovator to come up with a contemporary kitchen design, they will likely present something simple yet sophisticated. Contemporary kitchens use a lot of texture and clean line, and showcase the space rather than the things.
How to Get the Look
The good news is you can actually achieve a contemporary look in your kitchen without making any major changes. Contemporary kitchens are usually minimalist in design and feature linear or geometric themes. The single most important thing that you need to remember is that clutter should be avoided. Having too many colors and textures or too many kitchen appliances and knick-knacks can wreck the look.
For the best results, try to stick to the tried and tested 60-30-10 rule, which states that 60 percent of your space should be one dominant color, 30 percent a secondary color and 10 percent an accent color. Keep appliances at a minimum and store gadgets in drawers or sleek containers.
You can ask your kitchen remodeler to install cabinets and molding that feature few embellishments. When it comes to materials, those that were developed during the nineteenth and twentieth centuries are preferred: steel, plastic, concrete and glass. If you desire a contemporary flair but would like to steer away from something that feels too industrial, natural materials such as granite, slate and wood are the most widely used.
When it comes to paint, it is much more common to use monochromatic colors, however, if you are leaning towards something a little bolder, then a contemporary look can definitely be achieved with a more vibrant palette. Warm tones will promote a more transitional feel while cooler tones will yield an ultra-sleek modern look.
Let's Start a Conversation!
Whether you've been dreaming about a stylish contemporary kitchen or are looking for something more traditional, the experts at DreamMaker Bath & Kitchen of Schaumburg have the skills and expertise to turn your vision into reality. Instead of searching online for a "kitchen remodeler near me", please give us a call at (847) 416-8451. Alternatively, you may fill out our convenient contact form and one of our team members will get back to you as soon as possible. Our service areas include Arlington Heights, Elk Grove, Palatine, Hoffman Estates, Barrington and Bartlett.