---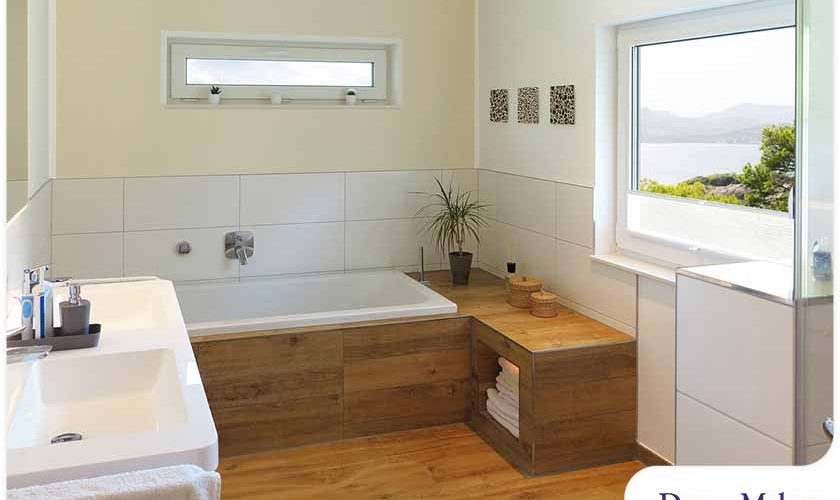 ---
Thanks to its simple design and relaxed spirit, modern coastal bathroom remodeling has seen an increase in popularity among many homeowners. The elements that make up this style follow a consistent theme of nautical concepts, colors and patterns. If you're considering redesigning your bathroom with modern coastal vibes, there are certain elements that can help you effectively achieve the look.

Colors & Patterns
There are no hard-and-fast rules about which colors can go into a coastal bathroom, however, the shades you'll most commonly see are navy blues and sea greens against white and gray backdrops. However, some designers have even found a place for the bright colors of contemporary design in a coastal bathroom.

Walls & Floor
Once you've decided on a palette, your bathroom remodelers can help you find tiling options that fit. Tile is the default wall and flooring covering for many coastal bathrooms, however, some designs work well with pebbled floors and other styling options too. Accent walls in deep blue hues serve as a great way to round out the design. Combine this with shiplap on the bottom half of your walls to create an even more impactful look.

Bathtub
The relaxed design of a coastal bathroom often includes a bathtub. Homes with limited floor area, however, can still make a bathtub work with the right floor layout. Don't sacrifice functionality for the sake of aesthetics. Bathrooms with only enough space for a shower stall can still achieve modern coastal appeal with other elements such as polished bronze fixtures and plumbing.

Vanity & Sink
Speaking of fixtures, you have a little more design freedom when it comes to your sink. While polished bronze pairs well with a white ceramic sink, modern coastal bathrooms also do well with chrome finishes. Circular mirrors evoke the circular windows of a ship, contributing further to the coastal theme.

Lighting & Decor
Your coastal bathroom renovations aren't complete without effective lighting. Large windows that let in plenty of natural light are ideal, but if privacy is a concern, consider installing skylights instead. Additionally, blue artwork and other coastal accents will also contribute to the overall feel of your bathroom.

Let's Start a Conversation!
Design and build the bathroom of your dreams with the help of DreamMaker Bath & Kitchen of Schaumburg. Give us a call at (847) 973-5097 or fill out our contact form to start a conversation today! We serve homeowners in Palatine, Bartlett and other surrounding communities.