---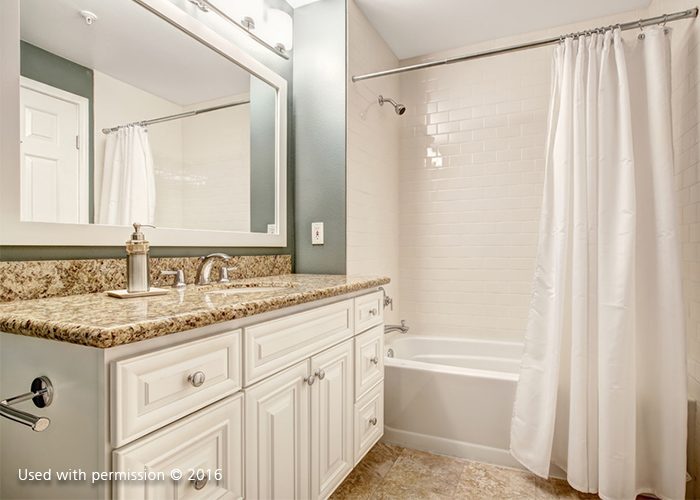 ---
While planning your bathroom remodeling project, be aware of common remodeling mistakes in order to minimize the risk of setbacks or delays. To help you get started, your local kitchen remodeling company DreamMaker Bath & Kitchen of Orland Park has listed do's and don'ts below.

The Do's

Have your bathroom inspected. Inspections are a crucial part of the planning phase for a bathroom renovation. Contractors need to address any underlying issues before they can revamp your bathroom.
Add storage space. Additional cabinets or other storage options should be one of the features of a newly revamped bathroom. Bathrooms are usually the smallest rooms in a house, which is why home remodeling contractors strongly recommend expanding bathroom storage space to free up valuable floor space.
Keep it neutral. It's wise to keep essential bathroom features neutral. It can be tempting to go for a trendier design, but trends go out of style quickly, leaving your bathroom looking outdated. Neutral colors and designs have a classic appeal that ensures your bathroom design remains up-to-date design-wise. Plus, in the event you decide to add a bit more personality to your bathroom, it's easier to tweak neutral color palettes.
The Don'ts

Don't forget ventilation and lighting. Trapped moisture can turn a bathroom into a breeding ground for mold and mildew. Installing a stronger ventilation fan is one way of making sure your bathroom has adequate ventilation. There's also the option of installing windows during bathroom renovations. Not only can windows improve the airflow in your bathroom, they can also increase natural lighting and make a small room feel more spacious.
Don't skip the vetting process for your contractor. You can minimize remodeling-related stress by working with a trusted contractor. Remember: constant communication is crucial to a remodeling project's success!
Let's Start a Conversation!
DreamMaker Bath & Kitchen of Orland Park is an award-winning, A+ rated contractor with the Better Business Bureau. Our team offers a wide range of professional remodeling services, including interior remodeling. To get started on your project, call us at (708) 320-3417 or reach out online. We serve homeowners in Orland Park, IL, as well as the surrounding communities.