---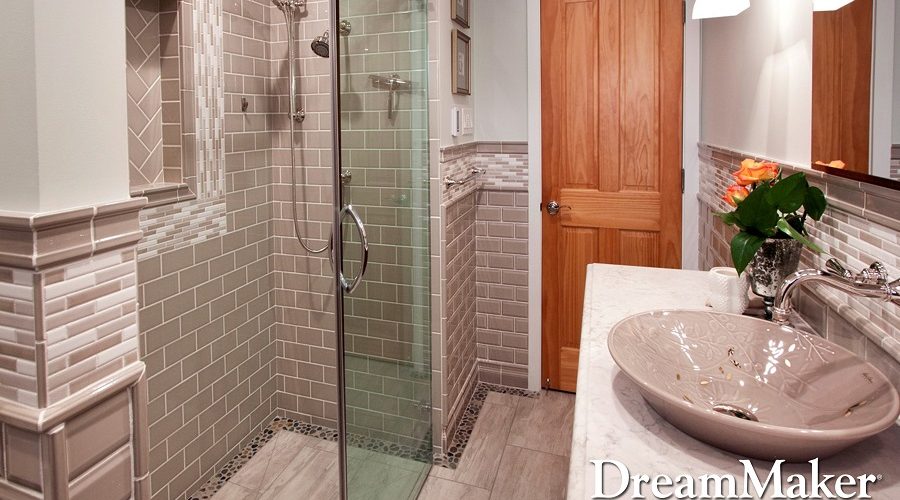 ---
Universal design is a steadily growing trend in the home improvement space. As a bathroom remodeling company with clients representing a wide spectrum of demographics, we at DreamMaker Bath & Kitchen love how universal design reflects our own deep respect for people.
What Is Universal Bathroom Design?
Before we get into universal bathroom design, let's define universal design.
We like this definition by Ireland's Centre for Excellence in Universal Design: "[It] is the design and composition of an environment so that it can be accessed, understood and used to the greatest extent possible by all people regardless of their age, size, ability or disability."
They go on to explain that it isn't a special requirement meant only to benefit a minority of the population. It simply about meeting people's needs—no exceptions. That's why we like to think of it as "common sense" design!
So what is universal bathroom design? It's bathroom design that incorporates the seven principles of universal design, which are:
Equitable use

Flexibility in use

Simple and intuitive use

Perceptible information

Tolerance for error

Low physical effort

Size and space of approach and use
What Makes a Bathroom Universal?
There are several ways to adapt a bathroom to universal use, but basic features include:
Main-level access

Wider doorways (min. 36 inches)

Wheelchair clearance (min. 60 inches of open floor space)

Grab bars

Accessible light switches and storage

Lever-style door and faucet handles

D-shape door and drawer pulls

Tall toilets (16 to 18 inches)

Wall-mounted sinks

Curbless shower

Adjustable handheld showerhead

Slip-resistant flooring
Create a Universal Space With Us
Partner with DreamMaker Bath & Kitchen of Northeast Suburban Chicagoland to create your own universal bathroom. We are dedicated to building safe and functional spaces in your home. Feel free to ask us questions about bathroom design, safety and mobility features, custom cabinet options and more.
Call (847) 327-0203 today or request an appointment through our contact form. We look forward to working with you!