---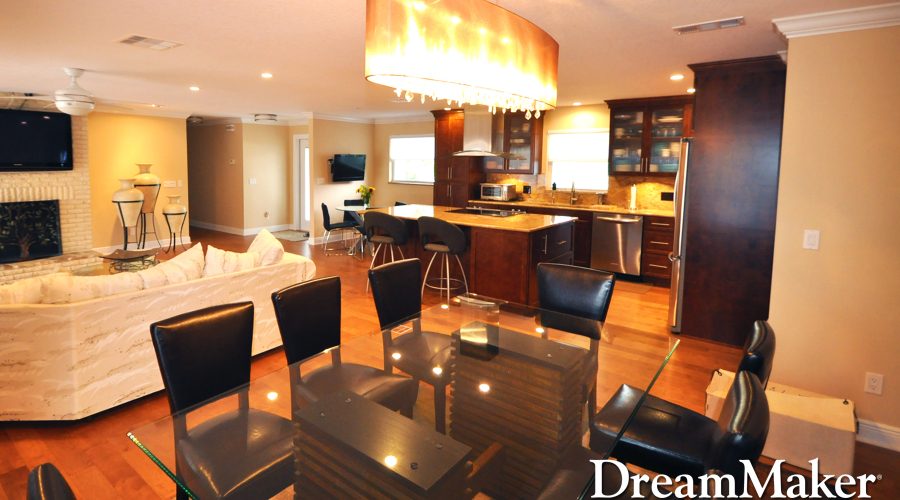 ---
One of the greatest challenges of whole-home remodeling is finding a unified look that doesn't look repetitive. DreamMaker Bath & Kitchen of Northeast Suburban Chicagoland shares tips on how to achieve continuity in your next remodel.

Flooring

If your whole-home remodel includes redoing the floors, make it a point to use the same floor treatment throughout the house. A hardwood floor adds a unified look even with different treatments across individual rooms. Choose the same style for areas that require a different material, such as in the kitchen and at the front entry.

If you're keeping the floor as-is, rugs are a good second choice. Carpets with neutral colors work with most color palettes, though dark-colored carpets create good contrast against light-colored walls.

Trim Color

Trim is the strip of material that covers the transition between wall and ceiling, as well as between wall opening and window frame. Choosing a single color for trim and window frames, as well as entry doors, can create a subtle yet noticeable continuity. If possible, choose the same window frame and sash color.

Hardware Style & FInishes

Most people think about kitchen hardware when choosing matching material finishes, but this can extend to door and window hardware, along with lighting switches and strike plates. One of the advantages of working with a home renovation company like DreamMaker Bath & Kitchen of Northeast Suburban Chicagoland throughout your project is that finding matching hardware won't be a problem!

Window Treatments

If your remodeling project includes installing window treatments like Roman or honeycomb shades, choose the same style throughout. One of the advantages of such window treatments is they work with any room decor, which lets the occupant personalize their room without looking out of place in the house.

Lighting

With perhaps the exception of kitchen task lighting, you will want consistent lighting throughout the house. Sudden shifts from warm to cool lighting or vice versa can be jarring, especially when transitioning from one room to another. An open floor plan can help maintain lighting consistency. Similar lighting fixtures, as well as accessories such as lampshades, can also contribute to continuity.

Unified Color Palette

Using the same colors in every room can be boring and repetitive. You can instead flex your creative muscles and use the same hue in different ways across different rooms. One room could have an olive green as the main color, then transition to a lighter shade of green in the next room. The objective is you still get the sense of the same color palette when you move from room to room, even when the main color is used differently.

Let's Start a Conversation!
DreamMaker Bath & Kitchen of Northeast Suburban Chicagoland is your leading provider of home renovation services, including kitchen remodeling. Give us a call at (847) 979-4474 or fill out our contact form. We serve customers in Vernon Hills, IL, and other north Chicagoland suburbs.