---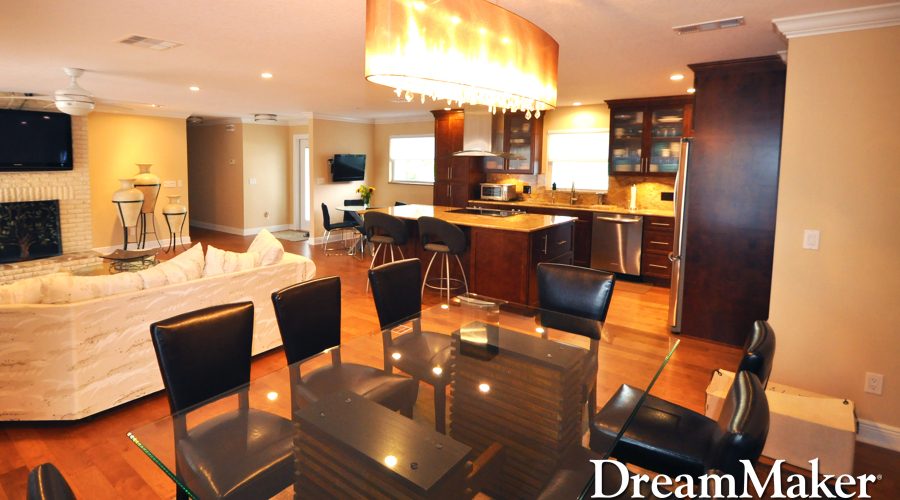 ---
Many modern homes don't have a room designated for eating. No matter the size of your house or apartment, you can still make it seem you have a separate dining area with some visual tricks. A kitchen remodeling expert from DreamMaker Bath & Kitchen shares creative design ideas for homes without a formal dining room.
Isolate Space Using Paint or Wallpaper
Painting or adding wallpaper is the easiest way to separate a dining space from the rest of the room. Paint the wall or corner where your dining table is in a different color. You can also add a patterned wallpaper as a visual contrast to create a feeling of separation.
Place a Bench or Banquette
If you have a rectangular dining table, make the space distinct by replacing the chairs on one side with a bench or banquette. To create a nook and save space, place the bench against the wall. A tall-backed bench can also serve as a divider if the table is in the middle of the room.
Add Statement Lighting
Large ceiling-mounted light fixtures can attract more attention to your dining area. You can hire a kitchen remodel contractor to install statement pendants or a chandelier above your table. Lighting will frame the space and make the room brighter at night.
Use a Rug
Choose a rug that's bigger than the dining table to create a "room within the room." Another option is to lay a rug beside your dining area for contrast.
For all your kitchen remodeling needs, you can count on DreamMaker Bath & Kitchen of Northeast Suburban Chicagoland. Let our experienced team help you bring your dream spaces into life. Call us at (847) 979-4474 or complete our online form to learn more about our services. We work with homeowners in Vernon Hills, IL, and many surrounding areas.