---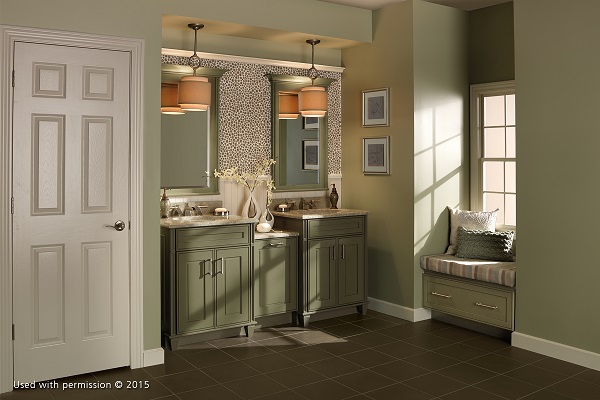 ---
Your bathroom is arguably one of the most used rooms in the home: We use bathrooms everyday, often several times a day, for our personal needs. Who doesn't appreciate some time relaxing in the tub at the end of a long day, having a brightly-lit mirror to help you identify and treat your facial blemishes, or an all-glass shower stall that can open up your space?
While a bathroom may primarily be functional, this doesn't preclude it from being a lovely and comfortable space you can relax in. With the help of a good bathroom remodeling company, you can turn your everyday space into a beautiful, comfortable, in-home oasis. Here are some tips worth considering:
Better Organization
Toothbrushes, make-up, shaving accessories and a slew of personal care products can quickly clutter up your space. Organise your space with extra storage, from additional shelving to vanities you can hide all the clutter behind.
A Touch of Nature
Integrate as many natural elements into your bathroom as possible. Care to create a feel for the outdoors in your private sanctuary? Try adding pebble flooring, a rustic copper tub, or if you've done a  bathtub conversion to shower, line your shower with stone tile to add beautiful architectural detail. Also consider bamboo flooring, shelving, or wall paneling to add warmth to your bathroom. It's environment-friendly and can lend your bathroom character; consider adding small green plants to your space as well for a touch of hominess.
Great Aesthetics
Punctuate your bathroom's style by using nice accessories, including warmly patterned linen, ceramic knobs, and a smattering of plants, candles, glass apothecary containers, woven baskets, paintings and the like to give you bathroom character and a more homey feel. Consider making your sink a statement piece. Traditional porcelain sinks are a dime a dozen, but a hammered copper basin or a moroccan-inspired handmade ceramic sink can bring a unique touch of elegance to the space. Or use  vibrantly colored mosaic tile to brighten up the room.
 Have Your Bathroom Remodeled Today!
Look no further than DreamMaker Bath & Kitchen of Northeast Suburban Chicagoland for the best solutions to your home remodeling needs. Call us today at (847) 327-0203 or fill out our convenient online form to schedule your consultation.