---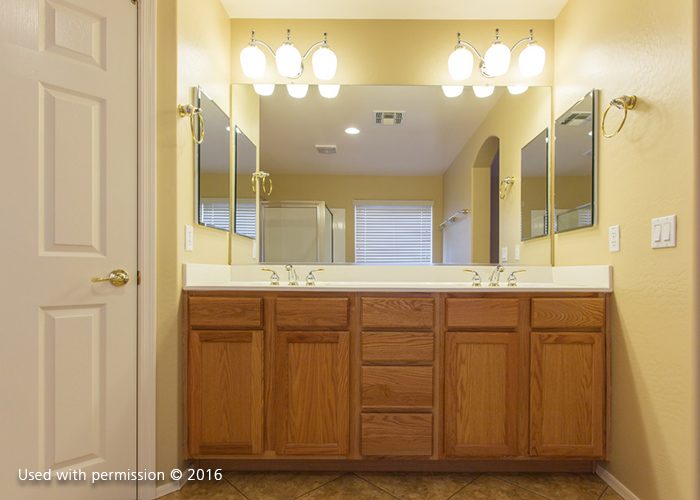 ---
Homeowners frequently ask whether they need a double vanity in their bathroom or if they should remove the second sink during a bathroom renovation to create extra storage and counter space. It depends on your purpose, lifestyle and the size of the bathroom. Here are tips to help you decide if you need a double vanity.
Your Purpose
Many homeowners remodel their bathroom before listing a home for sale to increase its resale value. A double vanity is ideal if you have sufficient space that will still allow for enough counter and storage space. It can increase both the bathroom's functionality and the property's resale value.
How Much Space You Have
You should only consider a double vanity for a bathroom remodel if you have enough space. While two sinks will fit a 48-inch wide space, the second sink will take up all the counter space and won't allow you to have under-counter drawers due to plumbing. With a 60-inch vanity space, you'll have around 12 inches of counter space and a 12-inch set of drawers in between two sinks. However, that's still not a lot of counter and storage space. You'll have a more useful counter and drawers with a 72-inch vanity space.
Your Lifestyle
Consider your habits if your main concern is functionality. If you're single, you'll benefit more from a single sink and extra bathroom storage. When living with a partner, determine if you both use the sink at the same time. This isn't the case most of the time. You also need to take note of cleanliness and how many products you have. Are you willing to eliminate some counter clutter for a sink?
As one of the area's most experienced bathroom remodeling contractors, DreamMaker Bath & Kitchen of Northeast Suburban Chicagoland can help you determine what's best for your space. You can count on our dedicated remodeling specialists for all of your home improvement needs. Call us at (847) 979-4474 or complete our online form to learn more. We work with homeowners in and around Vernon Hills, IL.