---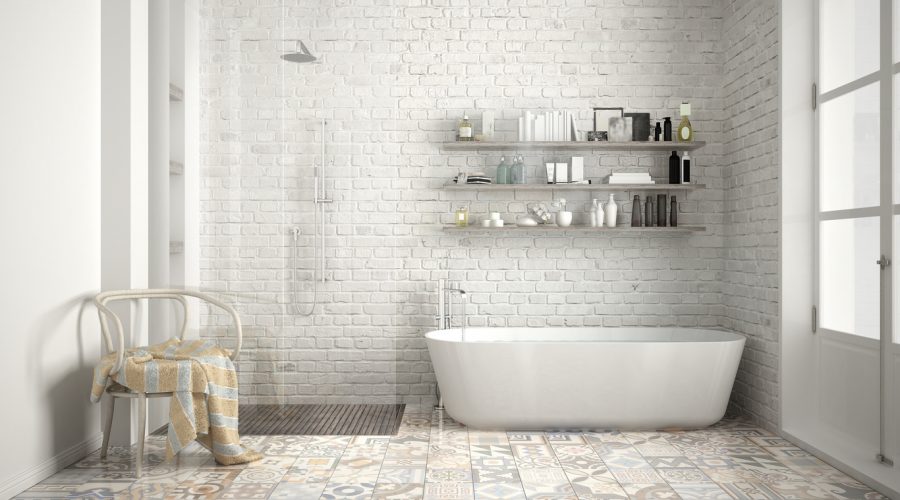 ---
Are you currently going over bathroom remodeling design ideas? There are hundreds to consider, starting with bathroom tile flooring. You just need to take the time to zero in on the best choice for you and your home. Here are some of the most popular bathroom tile flooring options available to you.
Vinyl Tile
Vinyl is a popular bathroom flooring choice because it is highly affordable yet suitable for any bathroom, from master baths to powder rooms. Vinyl tiles are durable and comfortable underfoot, and have come a long way in terms of aesthetic appeal and installation ease. If you need to work with a budget and can make concessions in terms of appearance and longevity, you'll find vinyl tile to be suitable.
Ceramic & Porcelain Tile
The standard choice for many remodeling projects, ceramic and porcelain tiles are also easy to maintain but have a leg up over their vinyl counterparts when it comes to durability. Add in a high-grade glaze and ceramic tile can resist wear and tear and avoid scratches. Porcelain tiles are hard but can still chip. However, because they are colored throughout, chips hardly show. Ceramic and porcelain tiles also come in a wider range of color and design choices, making them ideal whether you want the look of stone or prefer colorful mosaics.
Stone Tile
In the past, stone tiles were relegated to foyers. Today, they have made their way into other parts of the home, including the bathroom. They can be made from slate, granite, marble and limestone, and come in a range of colors, from greens and blues to creams and golds. They can also feature various textures, such as etched, tumbled, flamed and sandblasted. Stone tiles do require sealing on top of the usual cleaning. This can be an added cost but can easily be done by professionals.
Need help deciding on bathroom tile flooring? DreamMaker Bath & Kitchen of Northeast Suburban Chicagoland is the bathroom remodeling contractor to trust for every need. To learn more about upgrading your bathroom and what we can do for you, get in touch with us by calling (847) 979-4474. Let's start a conversation today!