---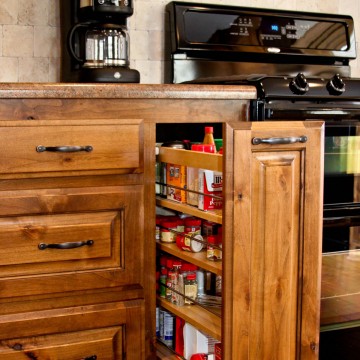 ---
Kitchen ergonomics is not a new thing, as evidenced by the following video produced in 1949 by the Department of Agriculture. While the aesthetics and certain components may look antiquated, a surprising number of step-saving principles are still applied in today's kitchen remodeling projects!

Today, DreamMaker Bath & Kitchen of Northeast Suburban Chicagoland examines how these principles from decades ago still translate to today's kitchens.

Principles of Work Simplification

Typical "old-fashioned" kitchens were described as difficult to use: one had to stoop, reach and move around the kitchen a lot. Work simplification, or what we simply refer to today as ergonomics, involved careful planning around how one works in the kitchen. Essential features such as comfortable countertop height and proper lighting are equally important at the time.

According to these principles, workspace areas must be tailored to the user's needs. For instance, a 36-inch wide work area offers the ideal amount of space for people who do a lot of baking, but 42 inches makes the workspace more comfortable. Cabinetry designs should be designed to maximize use of space.

Timeless Elements of Kitchen Design

The video demonstrates certain elements of kitchen design that are still in use in today's home renovation projects:

Kitchen Lighting — Natural lighting remains a crucial element of any remodeling design, as evidenced by a picture window being a prominent component of the "step-saving" kitchen.
Kitchen Island — While a desk in the kitchen is still useful for many things—as an informal breakfast nook or as a spot for kids to study in while you work in the kitchen—it's now replaced by a multi-purpose kitchen island. Variations in countertop height improve user comfort.
Kitchen Triangle — A U-shaped kitchen incorporates the principles of a kitchen triangle, a work area that consists of three points: the refrigerator, the sink and the cooktop. The user should be able to move from one of the three points to another in a few steps, but should have enough space to move freely.
Storage Organization — Some of the storage ideas in the video, such as rotating cupboards and pull-out storage bins for potatoes and sugar, are rarely used nowadays, but the basic principles remain. Today's cabinet designs maximize use of vertical space for storage. Narrow spaces can be used as pull-out dish cloth dryers or spice racks.
These kitchen design principles have stood the test of time and should be integrated into your kitchen remodeling plans.

Let's Start a Conversation!
DreamMaker Bath & Kitchen of Northeast Suburban Chicagoland is your leading provider of home remodeling services. Give us a call at (847) 979-4474 or fill out our contact form. We serve customers in Chicago's north suburbs.