---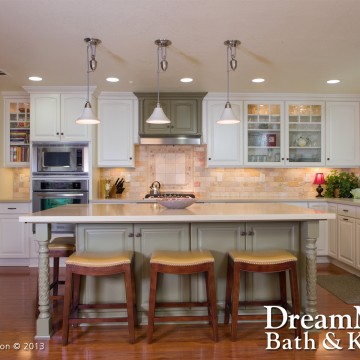 ---
According to Houzz's 2017 U.S. Kitchen Trends Study, kitchen islands are one of the most requested features in a kitchen. It's a remodeling trend that has remained on top for years, and the data suggests that millennials are likely to install an island in their kitchen if it doesn't have one already. What has made kitchen islands so popular? Find out from a trusted kitchen remodel contractor.
Social Space
More homeowners are leaning toward multifunctional kitchen islands, especially households with children. They provide a space where families can do multiple activities while socializing. You can cook while the kids are doing their homework or crafts. For empty nesters and couples who don't have children, one can cook while the other relaxes. An island allows people to bond despite their hectic routines.
Functionality
Another reason islands are popular in both contemporary and traditional kitchen remodeling is due to their functionality. Aside from providing a convenient space to locate the sink and stove, islands also provide more countertop area and storage. The added working space is beneficial for households that do a lot of cooking.
Downdraft stoves are now available so you can cook without worrying about ceiling damage or an extractor hood dominating the island. When the sink is integrated with the island, you can wash dishes while conversing with family and guests.
Appeal
In the future, you'll likely see islands that incorporate different materials than the rest of the kitchen. This will make them stand out and even serve as the focal point of the room. Already some islands are placed in kitchens as a furniture accent, without a sink or stove.
Design Your Dream Kitchen With DreamMaker
Whether you need help with cabinet refinishing or transforming your old kitchen, you can count on DreamMaker Bath & Kitchen of Livonia. Call us at (734) 390-9191 or complete our online form to get in touch with our remodeling experts.