---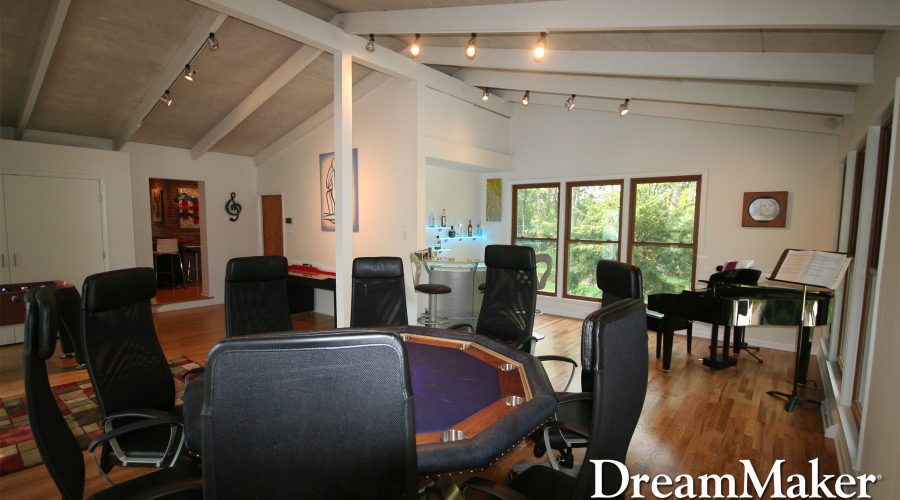 ---
Game room additions and upgrades are trending projects for home remodeling contractors, with more and more homeowners appreciating a specific space dedicated to their family's entertainment needs. If you're considering having a game room built, or thinking about transforming an existing room into a game room, here are a few important considerations.
Make It Comfortable
Your family members will likely be spending hours playing video games or binge-watching Netflix shows inside this room, so you definitely want to put comfort high on the home remodeling priority list. This means ergonomic seating, the right screen position and anything else that will improve your gaming experience.
The Right Light
Choosing the right lighting fixtures is the second top priority. Light plays a crucial role in setting moods and building an immersive experience. Many people prefer bright lights to illuminate their game rooms, but you'll also want the option to dim the lighting when you want to give the place a full cinema treatment.
Air Conditioning & Electronics
A home renovation project involving a game room addition must always take into consideration the number of electronic devices that will likely be kept and used there. Talk to your contractor about extra sockets with space for a few more before installing drywall. Additionally, you'll also want to cool the room sufficiently, as all the electronics are likely to generate significant amounts of heat.
Work With the Pros
Treat your family to an amazing game room addition with the help of the skilled design-build experts at DreamMaker Bath & Kitchen of Greenville. Give us a call at (864) 214-0296 or fill out our contact form to start a conversation about your project.