---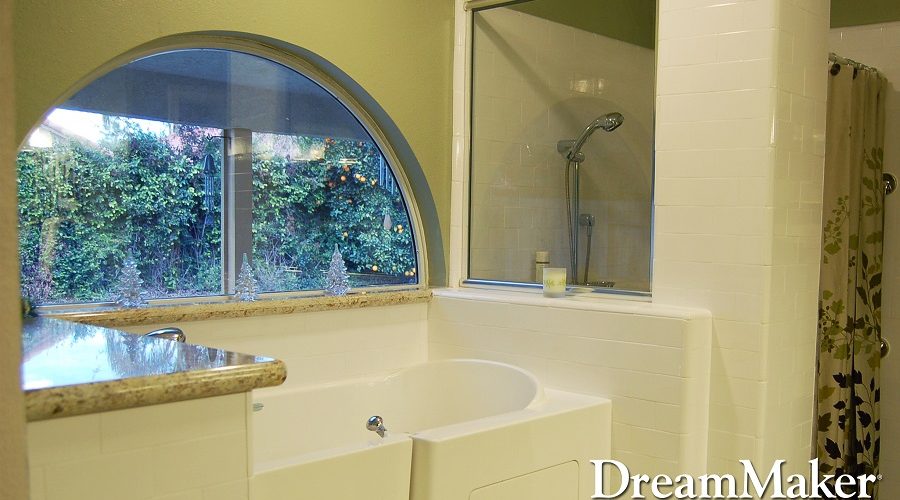 ---
As a bathroom remodeling contractor that has grown with our customers over the years, DreamMaker has been pleased to see universal design become a trend in bathroom improvement. We love how the principles behind it dovetail neatly with our own core values: it respects people's needs by guaranteeing access to everyone.
Who Needs Universal Bathroom Design?
When we say universal design is for everyone, we mean it! By ensuring that a bathroom is functional, safe and comfortable for people to use regardless of their age, ability or size, universal design future-proofs the space for any lifestyle changes. It's easy to see that it isn't just for the elderly or for people with mobility issues.
Simply put, universal design is "common sense" design.
What Makes a Bathroom Universal?
Common features incorporated in universal bathroom design include:
Main-level full bath access

Wider doorways (at least 36 inches)

Wheelchair clearance (at least 60 inches of open floor space)

Walk-in/curbless shower

Walk-in bathtub

Tall toilets (16 to 18 inches) with soft-close seats and lids

Grab bars (in the shower and next to the bathtub and toilet)

Adjustable handheld showerhead

Shower bench

Slip-resistant flooring

Wall-mounted/floating sink and vanity

Lever-style door and faucet handles

D-shape door and drawer pulls

Few or no protruding shelves

Accessible light switches, storage niches and towel racks
Enhancing Lives, Improving Homes
At the end of the day, this sums up what DreamMaker Bath & Kitchen of Greenville is all about: enhancing lives by improving homes. Whether you need to remodel a master bath or secondary bath according to universal design principles, our team of design experts can help.
Give DreamMaker a call at (864) 214-0296 or fill out our contact form today to schedule your free, no-obligation consultation. We look forward to meeting you!