---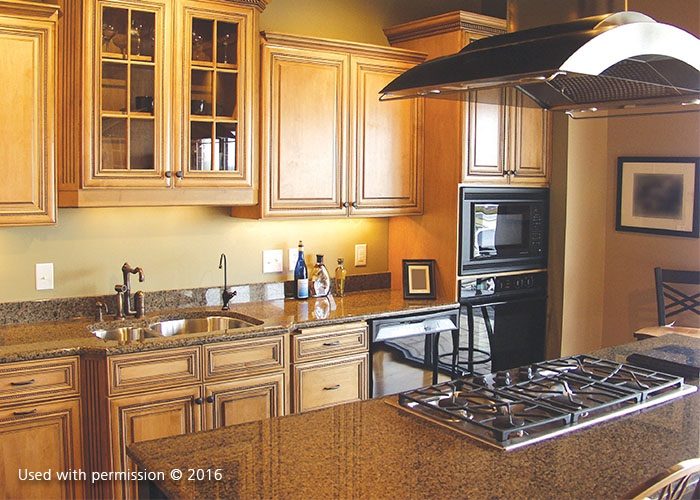 ---
Before you contact a kitchen remodeler, you may already have a design in mind for your dream kitchen. However, simply putting together pictures from magazines and the internet isn't enough. You also have to make sure that your kitchen-to-be is not only beautiful but also follows best practices in design.
Kitchens have several key components, but let's start with countertops. You need them for meal prep, storage and everything in between, so your countertops have to be able to keep up with your needs.
Here are some design principles for countertops to keep in mind.
More is better. Homes with small L-shaped or galley kitchens may not be able to have large countertops installed, but the ideal minimum for linear countertop frontage is just over 13 feet. Countertops should also measure 24 to 25 inches from the backsplash or kitchen wall to the counter edge. Almost all counters are made using this depth, so you won't have to worry too much about making sure yours meet specifications.

Sharp, square corners are out. Manufacturers today rarely produce countertops with 90-degree edges. Not only are they prone to cause injury, the square edge also leads to higher risks of countertop cracking, especially when a solid surface is used. The standard now is clipped or rounded countertop edges.

Make space for everything. Over the years, the need for a taller space above counters has grown, thanks to the proliferation of small kitchen appliances like blenders and microwaves. For ease of use, vertical space above a counter should include at least 15 inches of clearance.
How Can We Help?
DreamMaker Bath & Kitchen of Greenville is here to help you bring your dream kitchen to life. Whether you're traditional in style or you crave a contemporary kitchen remodel, you can count on us for the best products and services around. To learn more about what we can do for you, simply give us a call at (864) 214-0296 or fill out our online contact form. Let's start a conversation today!