---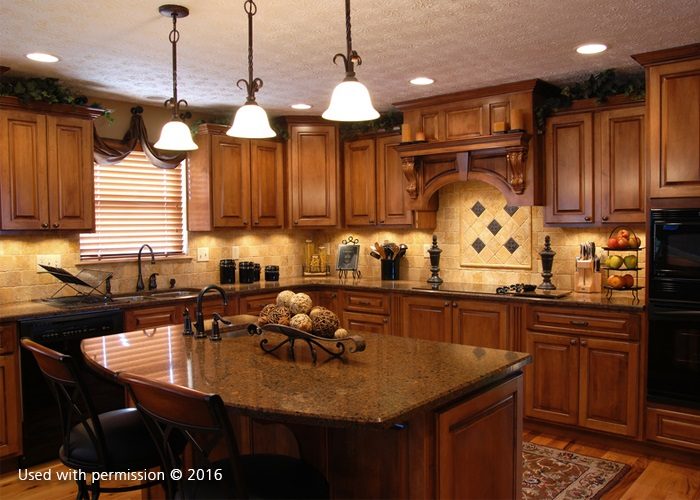 ---
Decorating for the holidays is a tradition in most American homes. We deck out our exteriors, dining and living rooms for the season, but one high-traffic space sometimes gets left out of the picture: the kitchen.
Check out the idea list below if you want to bring a festive touch to the heart of your home without going all-out with a remodel.
Lighting. Warm dimmer lights, Christmas lights and fairy lights will give your kitchen a cozy holiday feel. Consider hanging string lights or lanterns outside, especially if your kitchen adjoins an outdoor space.

Garlands, wreaths, plants and plant cuttings. These natural accents are an elegant way to bring in the season. You can also use well-made faux ones to equal effect.

Special china. Many families have fancy dinnerware and serving dishes stashed away in a cupboard for a special occasion. What better time to bring them out than the holidays?

Food. Edible décor, anyone? Put seasonal fruit and some of your favorite holiday goodies out on your counters. They'll be a treat to look at as well as eat!

Soft accents and other small touches. Festive runners, rugs, kitchen towels, and strategically placed vignettes and ornaments are another easy way to add holiday decor to your kitchen.

Scent. There are plenty of ways to introduce festive scents into a kitchen: cooking, stovetop or slow cooker simmers, potpourri and even hand soap.
Create a Kitchen to Make Holiday Memories
If you have something more permanent in mind, feel free to touch base with DreamMaker Bath & Kitchen of Greenville. As one of the area's leading bath and kitchen remodeling contractors, we can transform your home into a welcoming space that will make future holidays—and every day—feel even more special. Start a conversation with us by calling (864) 214-0296, or fill out our contact form today!