---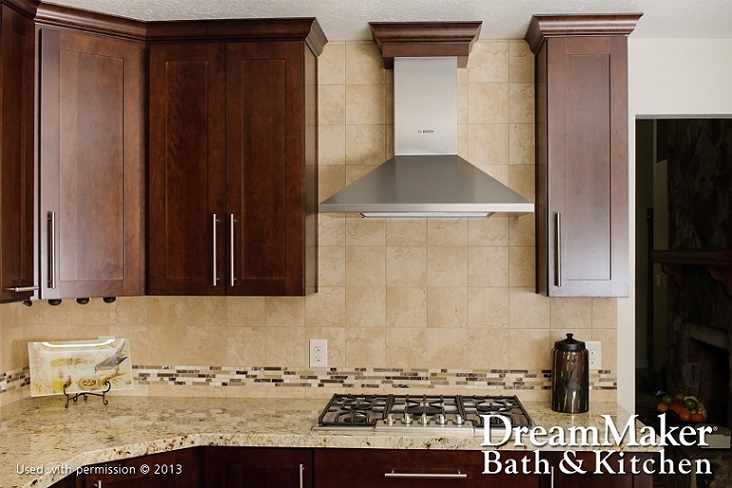 ---
The kitchen work triangle is a classic design concept that improves the efficiency of cooking in a kitchen. This design refers to placing your refrigerator, stove and sink an equal distance apart and arranging them in a triangle. There should be no obstacles within the triangle space.
The kitchen work triangle has been popular for many decades, however, it is not the only possible layout. When DreamMaker provides you with a kitchen remodel estimate, our experts can discuss whether the work triangle will work well for your kitchen.
Understanding the Kitchen Work Triangle
In a typical kitchen work triangle, each leg of the triangle is between four to nine feet, and the total length of all three legs is no less than 13 feet and no more than 26 feet. These measurements help ensure free movement within the work area. In theory, the cook will be able to seamlessly turn around and switch between work areas at a moment's notice.
The kitchen work triangle was developed during a time when the kitchens were separated from the rest of the house, and when only a single cook prepared the household's meals. This kitchen arrangement is designed to maximize a single cook's performance, so this layout is a good idea if you only have one person in the kitchen most of the time.
The Alternative
Unfortunately, a lot has changed since the kitchen work triangle was developed. The kitchen is now a place for friends and family to gather and socialize. In many cases, families have multiple cooks working at the same time. The kitchen is also no longer closed off. Zones are a good alternative to the kitchen work triangle. Your kitchen will be divided into multiple self-contained zones that focus on a single activity. This allows multiple cooks to work at once, and is a more flexible layout than a kitchen work triangle.
DreamMaker Bath & Kitchen of Greenville can help optimize the layout of your custom kitchen remodel and help you with all of your interior remodeling needs. We're one of the top remodeling companies in our local area because of our distinctive, full-service remodeling process and our superior craftsmanship. Call us at (864) 214-0296 to learn more about our services and products, or to request a consultation.