---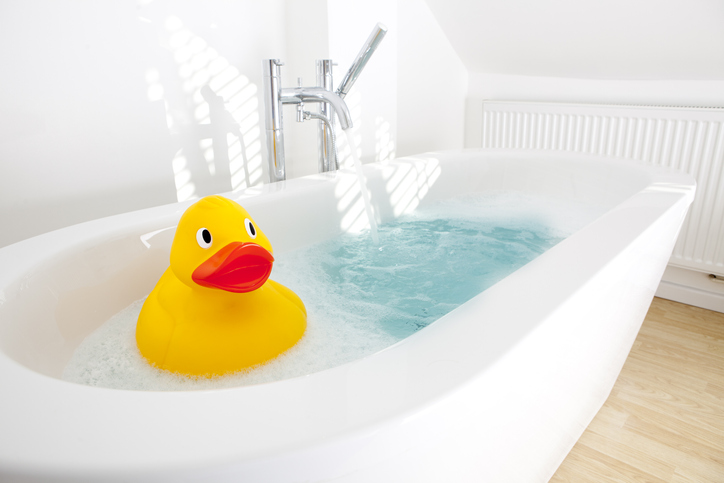 ---
Kids grow up so fast. But before that happens, you have to make sure their needs are met, and ensuring they have a child-friendly bathroom makes life easier. It's easy to get wrapped up in designing a kids' bathroom but at the heart of it, a child-friendly bathroom is functional. Here's what you should consider to ensure a bathroom remodel is suitable for kids.
Accessible Height
Countertops first have to be accessible to be usable to children. To ensure this, you can either lower the bathroom vanity's height so the child doesn't have to stand on tip-toes to reach over, or you can stick with the standard height for a countertop and have a lift-out step installed at the bottom vanity drawer. The step not only lets children reach the counter easily, it can also be lifted out of the drawer when it's no longer needed, creating more storage.
A Toilet That Transitions
 Depending on a child's size, standard toilet seats may be too big, putting them at risk of slipping in and getting stuck. Look for a toilet that comes with a seat that helps a child transition from potty training and beyond.
Easy-to-Handle Hardware
Levers and pulls are better for small hands than knobs because children might not have developed the dexterity needed to grab the latter. Additionally, towel hooks and rings may be easier to manage than their bar counterparts.
Ready to design and build a child-friendly bathroom? As one of the most trusted bathroom remodeling contractors in the region, DreamMaker Bath & Kitchen of Greenville is here to deliver, guaranteeing you get the results you're looking for. To learn more about what we can do for you, simply give us a call at (864) 214-0296. Let's start a conversation today!