---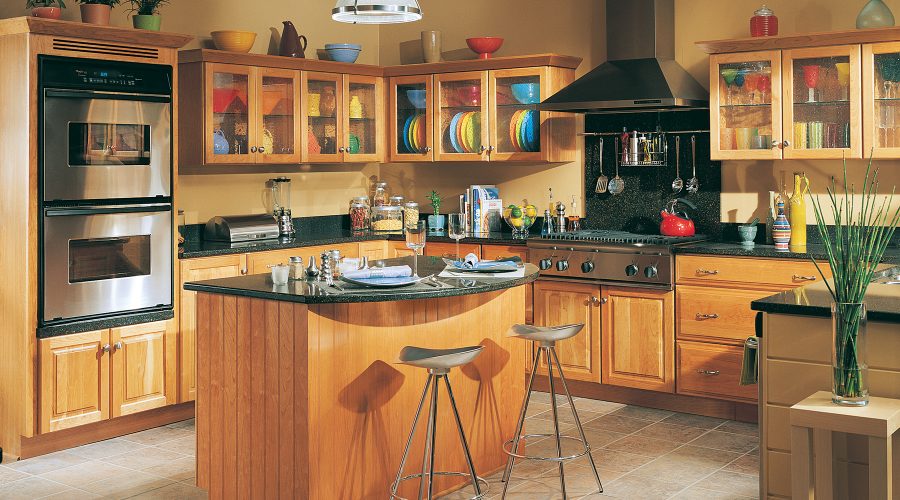 ---
Kitchen islands have a lot to offer and are a factor in most kitchen remodeling projects. Standard options are already great, but make sure yours reflect your needs exactly and you will enjoy a much-improved experience in your kitchen.
Fortunately, there are many options for you to consider. To help you get started on choosing the best kitchen island for you, here are some upgrade ideas you can consider during a kitchen remodel.
1. Contrasting Colors
Kitchen islands typically have the same counters as the rest of the kitchen, contributing to a sense of cohesion. However, there is always room to experiment, especially if you have a transitional or modern kitchen. For example, you could pair a statement wall with a unique ceiling and dark countertops, using a lighter-colored island to tie the overall look together.
2. Different Materials
Wood is beautiful and the material of choice when it comes to kitchen islands, often matching the cabinets in place. If you want to use your kitchen island as a focal point, you could have dark-colored subway tiles installed along the sides instead, adding more flair to an already-grand marble countertop.
3. Unique Shelving
Open shelves make a kitchen feel more spacious and are usually installed on walls. You can achieve the same effect by bringing open shelving to your kitchen island. This will provide you with additional storage, keeping clutter at bay while letting light through to prevent your kitchen from feeling stuffy.
How Can We Help?
Looking for kitchen remodeling contractors to bring your kitchen island upgrades to life? You can't go wrong with DreamMaker Bath & Kitchen of Greenville! We offer only the best products and services around so you can count on getting the results you're looking for. To learn more about what we can do for you, simply give us a call at (864) 214-0296. Let's start a conversation today!