---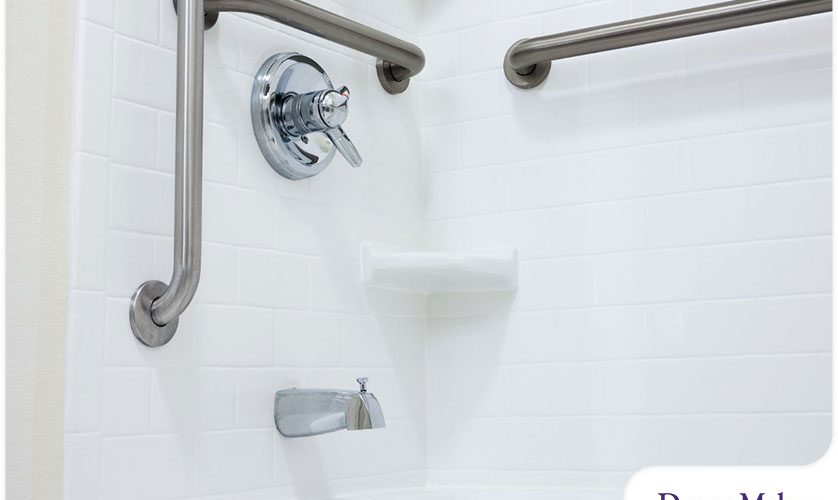 ---
If you're thinking about remodeling your bathroom for your forever home, you're not alone. Bathrooms should promote safety, independence, comfort and convenience for seniors, so they can confidently live at home with peace of mind. DreamMaker Bath & Kitchen of Greenville presents a few of our favorite accessible remodeling choices that can make a difference for you and your loved ones for years to come.
1. Non-Slip Flooring
A wet, slippery floor can be one of the biggest risks in a bathroom. To help avoid slips and falls, you should select non-slip flooring — think tiles with textured surfaces or special non-slip designs.
2. Grab Bars
Install grab bars in plain sight and easy-to-reach locations, such as around the toilet, in the shower and near the bathtub. This helps provide extra balance and support when standing up or sitting down.
3. Walk-In Shower
A walk-in shower is an example of accessible remodeling that eliminates the need to step over the side of a bath or tub, which could become increasingly difficult for seniors as mobility decreases. When remodeling your bathroom, consider making room for an open shower with a floor-level entry.
4. Hand-Held Shower Head
For those who don't want to stand for long periods, a hand-held shower head makes it possible to bathe while sitting down. It also allows users to control the direction and pressure of the spray for more individualized comfort.
5. Shower Bench
If you want to be able to shower while sitting down, you'll also need a shower bench. There are several styles available, so you can pick the one that best fits into your existing design and use it whenever needed.
6. Countertop Height
Since standing at a lower counter height could be difficult for older adults, you should consider raising your vanity to a more natural level when you remodel. This will allow the user to access all of their necessary items without having to stoop or bend over.
7. Lever-Style Faucets
Nobody wants to have difficulty turning on and off their bathroom faucet. By using a lever-style faucet, seniors can adjust the temperature and flow of water with just one hand, no matter what kind of grip they have.
8. Raised Toilet Seat
A toilet riser can be beneficial for those with limited knee flexibility. The raised seat will provide extra comfort beneath the legs, making it easier to stand up from the toilet after use.
9. Adequate Lighting
Since seniors are more prone to falls and trips, you should consider extra lighting for areas that may be less visible. Proper illumination can help keep them safe when moving around the bathroom.
Creating a senior-friendly living space doesn't have to be overwhelming. With the help of professionals from DreamMaker Bath & Kitchen of Greenville, you'll be able to make the changes you need at home for a safer and more comfortable life! If you're looking for a bathroom remodeler near me, give us a call at (864) 214-0296 or send us a message to schedule your appointment. We serve Greenville, Greer, Mauldin, Simpsonville, Fountain Inn, Taylors, Travelers Rest, Easley, Piedmont, Spartanburg and surrounding areas.