---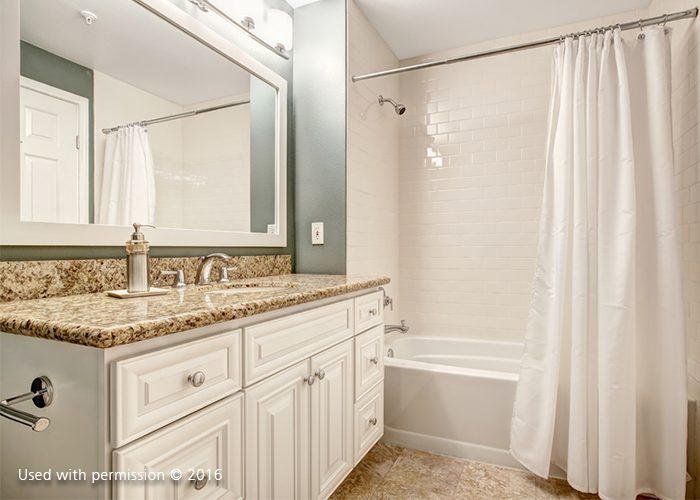 ---
Got a bathroom without windows? You are not alone! Fortunately, you don't have to forever miss out on natural lighting and ventilation in this frequently-used room. Where adding a window is impossible, here are a few things you can do.
Consider Solar Tubes
Unlike traditional skylights, solar tubes don't have to be installed directly above your windowless bathroom. They deliver natural light into a room via a highly reflective tube, and the tube can be in multiple locations that aren't directly above the bathroom ceiling. Ask your house renovation company to install a solar tube with a vent fan and you can augment your existing exhaust system to better control humidity and ventilation in your bathroom.
Let There Be Lucite
And glass and metal. When you don't have a lot of light to go around, you don't want surfaces that will absorb it. Lucite, glass and polished metal are good to have as accents because they reflect light. They'll also bring uniformity to your bathroom, even without offering a lot of color. Lucite is transparent, so it is also great for making the room feel less cluttered compared to opaque materials.
Drop the Shower Curtains
Windowless bathrooms are typically small so you need to make full use of every square inch available to you. Shower curtains obscure bath areas, making an already small space look even smaller. With glass shower doors, you extend lines of sight, making your bathroom feel roomier.
With our expertise, DreamMaker Bath & Kitchen of Elizabethtown can take on a range of projects, from simple shower replacement to a full-on bathroom overhaul, to address whatever home improvement needs you might have. To learn more about what we can do for you, just give us a call at (717) 298-3830 or fill out our online contact form. Let's start a conversation!