---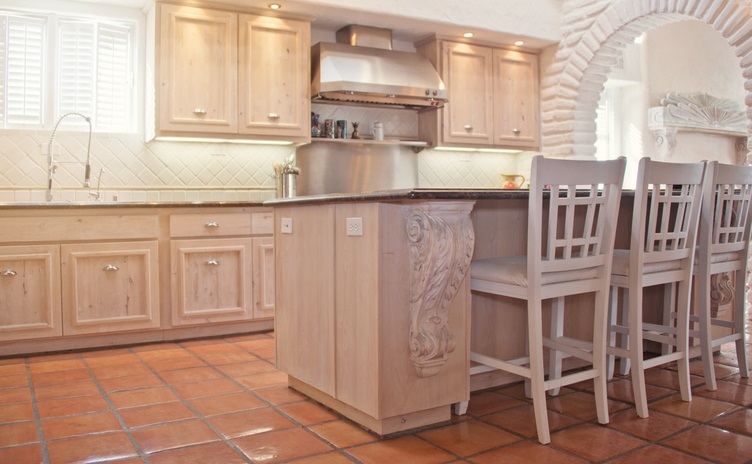 ---
The Tuscan-style kitchen has an Old World look, with lots of wood and metal, fancy moldings and stone. According to kitchen remodeling contractors, a modern Tuscan kitchen will draw its inspiration from greens, bright yellows, sweeping blues, and rustic reds and ochers — colors associated with the sun, sky, sea, earth and fields of Tuscany.
American homes typically have large kitchens, unlike Tuscan kitchens, which are on the small side. You may not want to emulate a Tuscan kitchen in size, but instead find inspiration in nature and Tuscan architecture.
Tuscan Kitchen Features
During the design phase, you'll want to include a galley or corridor layout and wood counters for an overall functional and clean vibe. A Tuscan-style kitchen is best defined by its woodwork, so be prepared to spend a little extra on cabinets which will occupy most of your kitchen's wall space.
Sienna clay, from which terracotta tiles are made, is mined and processed in Tuscany, so of course terracotta is a popular material used for flooring. Travertine, a natural stone product, also has a perfect Old World look for Tuscan flooring. If you like the warmth of wood, you can opt to install distressed wide plank flooring. These are planks six inches wide or more, with an artfully nicked and battered surface that has been made to look antique.
Tuscan Accents
To recreate the traditional Tuscan kitchen which uses stone for its oven and walls, you can create wall accents or surrounds using a rough-hewn stone. Another way to impart Tuscan style is to add a tile backsplash behind the stove. As a rule of thumb, seek to integrate the elements of wood, stone, metal, color, antiquity and adornment into your design.
Design Your Dream Kitchen With DreamMaker
Tuscan kitchens are reflective of the region's cooking, which is simple, hearty and welcoming.
With our experience and expertise, DreamMaker Bath & Kitchen of Elizabethtown can take on a range of projects, including a true-to-form Tuscan kitchen remodel. To learn more about what we can do for you, just give us a call at (717) 298-3830 or fill out our online contact form.