---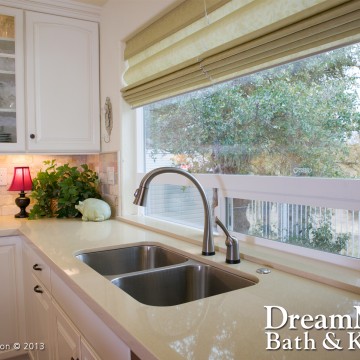 ---
Not many people consider a second sink for their kitchen renovation, but it could be a great addition if your project allows it. DreamMaker Bath & Kitchen of East Georgia takes a look at whether a second kitchen sink works for your kitchen.
Why Get a Second Kitchen Sink?
A second sink extends the usability of your main sink. If you've often found yourself washing vegetables over a sink full of dirty dishes, that can be reason enough to add one. If you love hosting family gatherings or if you live in a household that includes your extended family, a second kitchen sink can help make prep time more efficient.
A second kitchen sink can also make your kitchen more universally accessible. A lower second sink, for example, can give your kids easy access for water refills or for washing their hands before meals. It can also improve accessibility for loved ones who have limited reach. A good kitchen remodeler can help you plan the correct kitchen sink height and location.
The Best Places to Install a Second Sink
Your second kitchen sink doesn't have to be located next to the main sink. Your kitchen layout dictates where the second sink should be, and chances are you already have an idea of where it should be. Here are some ideas:
Kitchen Island

— This is probably the most popular spot in the kitchen for a second sink, and you've likely seen it in action on more than one celebrity chef's show. Having a sink in the kitchen island creates a tighter and more efficient work triangle. 

Zoned Workstation

— Speaking of the work triangle, a secondary kitchen sink can help address an inefficient workstation. A typical work triangle consists of the cooktop, the sink and the refrigerator. If you find yourself having to take more than two paces between any two of these points, a strategically placed secondary sink may help create a more efficient work triangle.

Pantry

— A secondary sink is great as a halfway point between the pantry or back door and the kitchen. Think of it as a "loading dock" where you wash produce, meat and seafood before storing them. This keeps the kitchen free from drips and dirt.
Let's Start a Conversation!
DreamMaker Bath & Kitchen of East Georgia is your leading local provider of kitchen remodeling services. Give us a call at (478) 268-4206 or fill out our contact form. We serve customers in Swainsboro, GA, and surrounding areas.
If you live in Swainsboro, Dublin, Statesboro, Vidalia, or Metter and are interested in learning more about remodeling your kitchen or bathroom, don't hesitate to contact the DreamMaker Bath and Kitchen of East Georgia team.