---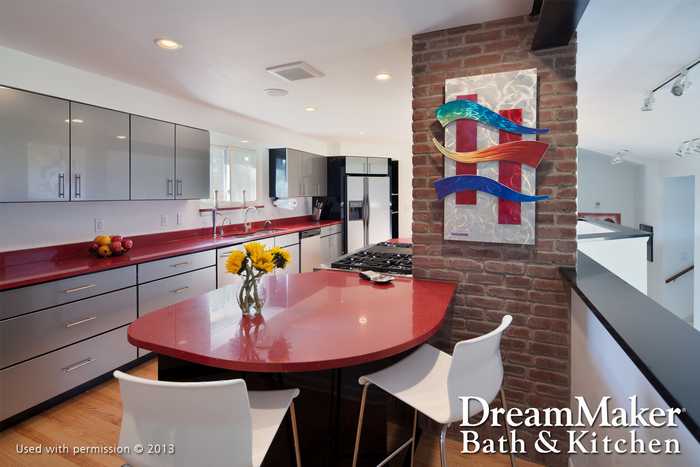 ---
Anticipating problems should be part of any renovation project. You can be more prepared for possible delays by understanding just how long kitchen remodels should take. With hundreds of successful projects to our credit, DreamMaker Bath & Kitchen of Central Texas has the expertise to walk you through the typical timeline of a full kitchen overhaul.

Initial Steps
As with any construction project, the first step in kitchen remodeling involves finding a reliable contractor and laying out the plans. Planning can take the most time but it's also the most enjoyable step. Start by listing everything you want in your new kitchen. Aside from the basics, are there any other features that you're looking for? Next, streamline your list by eliminating the features that won't work or are unnecessary. Finding a professional designer can help make this step easier and ensures that you'll be making the most of your remodel.

Preparation
The next step is to order all the materials. Your home remodeling contractors should handle the majority of this step but it's a good idea to keep in touch with them to make sure that everything is going smoothly. Depending on the scale of your kitchen renovation, this step could take up to a month to finish. If your renovation involves modifying load-bearing walls, changing window placement or even redoing the plumbing, the demolition process can take about a month.

Construction
The duration of the actual renovation work will depend on the size of the project. For example, installing a new floor can take one to two days while replacing cabinets can be anywhere between two and four days. Like bathroom remodeling projects, kitchen renovations might also require plumbing work to be done, which can take up to two days.

<h2>Design Your Dream Home With DreamMaker</h2>The skilled team of designers and builders at DreamMaker Bath & Kitchen of Central Texas are committed to helping you with all your home remodeling needs from start to finish. Give us a call at (254) 262-0087 or fill out our contact form to start a conversation today. We serve homeowners in Waco, TX, and all nearby areas.