---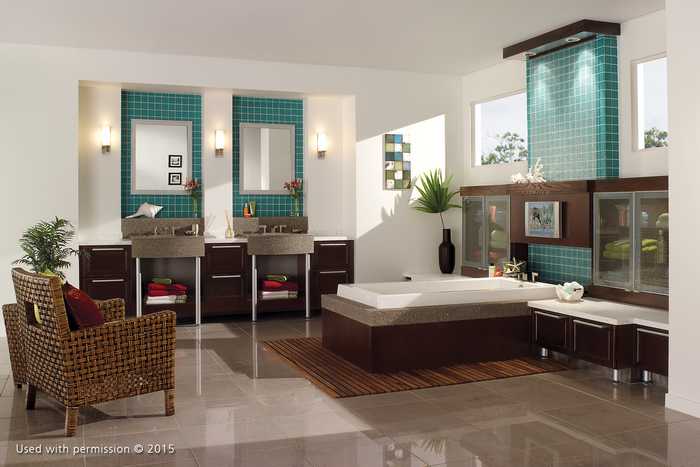 ---
A bathroom's size and shape are often the first things considered when renovating. While these two factors are certainly important in designing a bath, you also need to think about who will use a specific bathroom in your home. By first understanding who the bathroom will be used by, your contractor can make appropriate recommendations and guide you through the project.
DreamMaker Bath & Kitchen of Central Texas, one of the top home remodeling contractors in the area, discusses some of the things to consider when designing bathrooms for different users.
Family Bath
Since this bathroom is used by everyone in your family on a day-to-day basis, it will naturally endure a lot of foot traffic and wear. This will require the family bath to be highly durable and easy to clean. A double sink would definitely be a wise investment, and you'll need plenty of storage cabinets to keep the bathroom clutter-free. Ideally, each family member should have one shelf where they can put their personal items.
Master Bath
This is usually the largest bath in the home and designed for two people, so it's not uncommon to find an extra-long vanity counter or two sinks in this bathroom. The master bath is also where you can indulge in some luxury features, such as heated floors, full-length dressing mirrors, a jetted bath and a separate or semi-enclosed water closet.
Kids' Bath
When designing a bathroom for children, safety is the top priority. Bathroom remodel contractors can easily help you with ideas for safety-conscious features. Common features include slip-resistant flooring and vanity countertops and cabinets with rounded edges. If you have the space, opt for a separate stall shower and tub rather than a shower/tub combination. If you must use a shower/tub combo, install a slip-resistant tub floor.
Additionally, consider an adjustable showerhead that slides up and down on a pole. This works great for kids of any height, as well as wheelchair users of any age.
Let's Start a Conversation!
DreamMaker Bath & Kitchen of Central Texas offers full-service remodeling to local residents. Apart from bathroom remodeling, our other areas of expertise include kitchen remodeling, flooring, cabinetry and more. Call us at (254) 262-0087 or fill out our contact form to start a conversation. We serve homeowners in Waco, TX, and many other communities.