---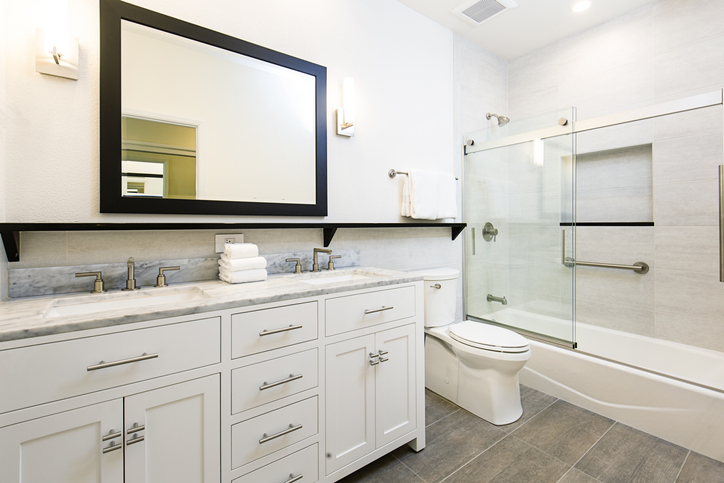 ---
A windowless room can look dark and drab. However, if you are remodeling this area of your home, there are plenty of ways to make it as open and airy as any room with natural light. DreamMaker Bath & Kitchen of Central Texas, one of the top bathroom and kitchen remodelers in the area, has some valuable tips.

1. White Walls

Painting the walls of your windowless bathroom or basement white or a light color helps simulate sunlight's brightness while subtly reflecting light from every source. A single color for the walls and ceiling blur out the edges. With this technique, items in the foreground become the focal points rather than the walls themselves.

2. French Doors

French doors trick you into thinking that a room has windows when, in reality, the adjacent room may only have an artificial light source. To give the illusion of daylight, consider adding a few lights inside that room beyond the glass pane-filled doors.

3. Transoms

Adding transoms high above the wall that divides your windowless room and an adjacent space is another way to create the illusion of daylight. In a kitchen remodeling project, this idea can help open up the kitchen with the help of a light source from the dining room.

4. Mirrors

Hanging a large mirror on your wall also simulates the effect of a window. In addition to reflecting some light coming from the light fixtures, it also adds a sense of depth that offsets the feeling of being inside an enclosed space. If the room has a low ceiling, consider hanging a large mirror that covers wall space but leaves up to a six-inch gap near the ceiling.

5. Large Art Piece

Just like the mirror, a large piece of artwork can break up walls like a window would. To make this work, the art should be hung in a white or metallic frame with a lot of white background. This way, the object brings a bit of lightness to the room's décor.

6. Lighting Under Cabinets

Apart from providing accent lighting, lights installed under the cabinets also help lighten the edges of a windowless bathroom or kitchen so you don't feel like you're brushing your teeth or cooking a meal in a dark corner of the room.

Let's Start a Conversation!
DreamMaker Bath & Kitchen of Central Texas is a leading provider of home remodeling services in Waco, TX, and the surrounding communities. Call (254) 262-0087 or fill out our contact form to start a conversation about your next project!