---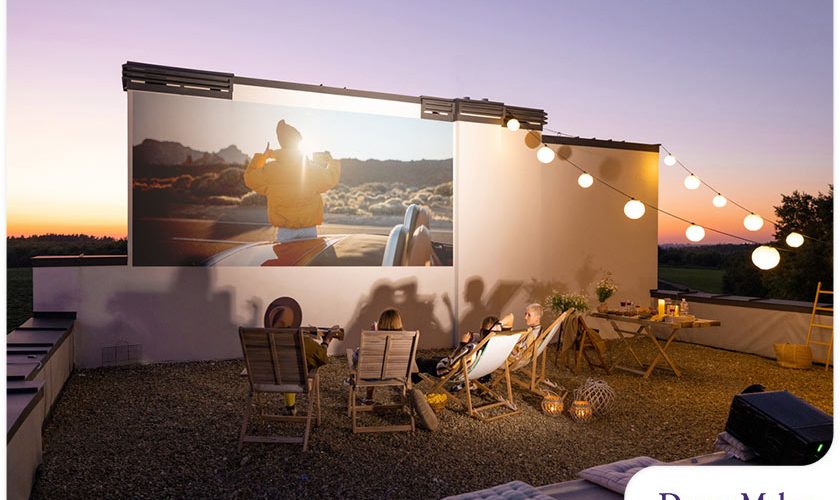 ---
A lot of people take their blockbuster-viewing and binge-watching activities seriously, us included! Sometimes it isn't enough to have a big-screen TV in your living room. When you want to take your viewing experience to the next level, building a great outdoor theater is definitely for you. All you need are these four essentials.
The Projector
Of course, if you want to enjoy watching movies outside, you're going to need a good projector. Our interior remodeling experts recommend one with at least 2,000 lumens, but the more lumens you can get, the better. HD resolution is also a must. If having a bunch of wires and cables scattered around bothers you, get a projector with mobile high-definition link (MHL) functionality. This allows you to plug a standard USB connector into any portable device, such as a laptop or even your phone.
The Screen
Sure, you can put up a white sheet or project the picture into a light-colored wall, but a sheet will create ripples when the wind blows and a wall will not give you the crispest picture. For an outdoor theater that will be the envy of the block, you should spend a few bucks and get a good cinema-grade projection screen.
Outdoor screens come in all shapes and sizes. You can get a folding screen for easy packing or a heavy-duty one that can be permanently mounted on an exterior wall, but the home renovation crew at DreamMaker Bath & Kitchen of Hollywood recommends a hideaway screen that can be controlled with a remote for maximum convenience.
The Audio
No outdoor setup is complete without good sound. While a lot of mid-range projectors already have speakers built in, most of them produce sound that leaves much to be desired. If this is the case for you, you should definitely consider investing in high-quality portable outdoor speakers. Again, if wires and cables bother you, choose a model with Bluetooth capability. 
Let's Start a Conversation!
Whether you're undertaking a complex home remodel or would like to update a time-worn kitchen or bathroom, the trusted experts at DreamMaker Bath & Kitchen of Hollywood will be more than happy to help with any project. To schedule an appointment, give us a call at (305) 425-1700 to connect with one of our team members. You may also fill out our contact form to request a free estimate. We serve homeowners in Hollywood, Pembroke Pines, Miramar and Aventura, as well as nearby areas.