---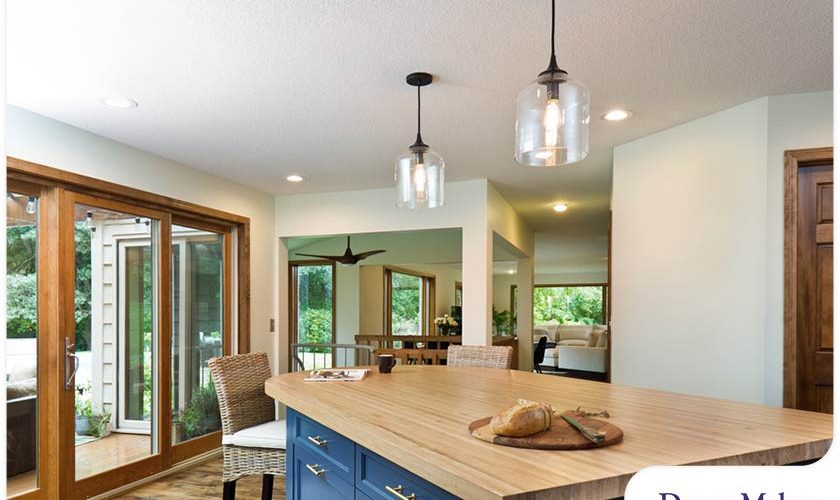 ---
These days, many homeowners are choosing an open floorplan, making kitchen islands one of the most important elements of the kitchen. An island can be the ideal place to cook, eat and socialize. For this reason, you have to make sure your island is properly lit so it can fulfill every role it needs to play.  
Since there are many ways to light a kitchen island, it's best to consult a kitchen remodeler on how to do it. To help you, DreamMaker Bath & Kitchen of Hollywood has some helpful tips to consider. 
Measure the Size of Your Kitchen Island
Before you select lighting fixtures, you need to measure the size of your kitchen island accurately. To begin, you should measure the length, width and height of your island. These measurements play a major factor in deciding the size and number of lights you nstall. Keep in mind that lights should be centered and hung 30 to 46 inches above your island countertop. To check your measurements, hang a piece of paper or a balloon from a string taped to the ceiling to help you visualize how much space the light will take up.
Determine How Much Light You Need
In addition to measuring your kitchen island, you need to determine how much light your space needs. Start by checking the lumens (or the amount of light) emitted by a bulb. As a general rule, you want anywhere from 35 to 50 lumens of light per square foot when planning the lighting for your kitchen island. The higher or lower end of that range may depend on the size of your space and other lighting fixtures in the room. This leaves your island with the right amount of light for practical use while reducing glare. 
Choose the Right Type of Lighting
After measuring the size of your kitchen island and determining how many lumens you need, it's time to choose the lighting fixture. There are numerous lighting options to consider for your island, including the following:
Pendant lights. Aside from adding appeal to your kitchen space, the height of pendant lights can easily be adjusted. The number of pendants above your kitchen island is also flexible. You may want to use two large pendants that provide most of the lumens you need or multiple smaller ones that produce fewer lumens each but together deliver the amount of light you need.

Linear chandeliers. From vintage to modern, linear chandeliers in all styles are becoming a popular choice. A chandelier is easy and quick to install since you will only be wiring one fixture, which is not the case for pendants. However, a linear chandelier may not provide enough light over a large kitchen island. 

Recessed lighting only. If you have low ceilings, pendant lights or linear chandeliers may be obtrusive. Instead, consider recessed lighting only, especially if you're going for a minimalist approach in your kitchen design.
Let's Start a Conversation!
Are you searching online for a "kitchen contractor near me"? Get in touch with DreamMaker Bath & Kitchen of Hollywood. We offer high-quality kitchen remodeling services to homeowners in Hollywood, Hallandale Beach, Aventura, Golden Beach, Pembroke Pines, Miramar, Dania Beach, Davie and North Miami Beach. Call us today at (305) 425-1700 or fill out our contact form to schedule an appointment.