---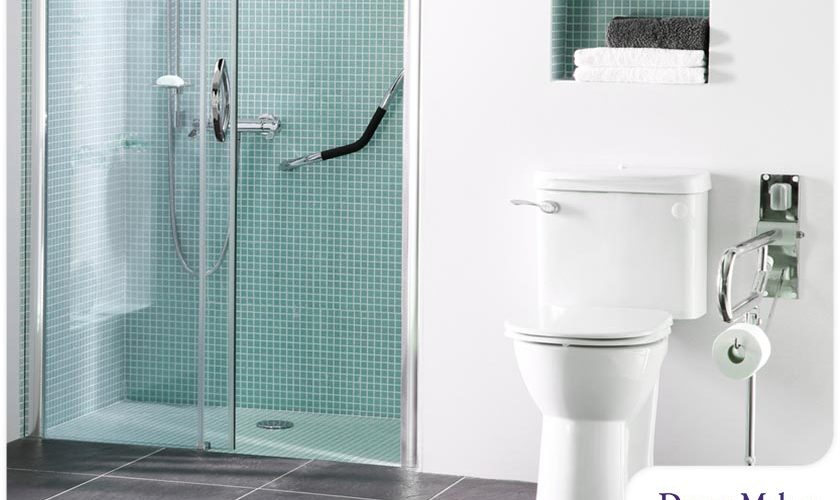 ---
Through our Independence by Design™ services, DreamMaker Bath & Kitchen of Hollywood will listen to your needs and preferences and provide the best solutions for an accessible bathroom renovation. When you work with us, you can be confident that your bathroom remodel will have the features needed to ensure a safer and more convenient experience for those with reduced mobility. Here are some important features to make this space more accessible.
Ideas to Consider
Lots of Space
Your accessible bathroom needs to have enough space for someone using a wheelchair. They will need to have ample space on both sides of the toilet so that they can easily transfer to and from the seat. There should also be a clear and unobstructed turning diameter as well, along with adequate space underneath the vanity/sink for those in a wheelchair to roll up to it with ease.
A Raised Toilet Seat
A raised toilet seat provides greater convenience for those with reduced mobility as it makes sitting and standing up much easier. Raising the seat of a toilet also makes it safer to use since the height is almost equal to that of a wheelchair. You should also consider the placement of toilet paper, soap, towel bars and other toiletries in the bathroom. They should be within reach of a seated user. 
Grab Bars
Grab bars are a typical feature found in any accessible mobility remodeling project. They are designed to provide balance, support and stability when using the toilet or shower. While grab bars on each side of the toilet are ideal, some designs make use of only a single grab bar. If you're planning to install grab bars, make sure they're at least 18 inches to the nearest wall or fixture. If you're placing two bars, they should be about 36 inches apart.
Let's Start a Conversation!
Get in touch with DreamMaker Bath & Kitchen of Hollywood and learn more about how we can make your accessible bathroom remodel a success. Call us today at (305) 425-1700 or fill out our contact form to get started with a no-obligation consultation! We serve residents of Hollywood, Hallandale Beach, Aventura, Golden Beach, Pembroke Pines, Miramar, Dania Beach, Davie and North Miami Beach, as well as the surrounding communities.