---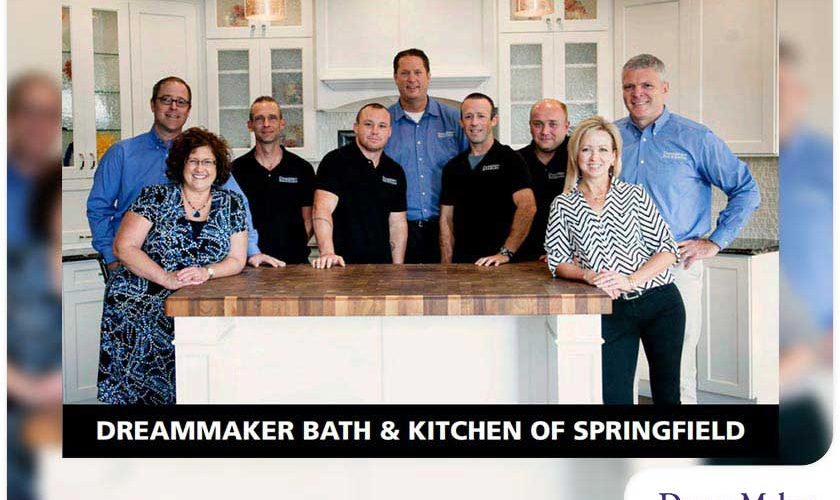 ---
DreamMaker Bath & Kitchen franchises are spread across the country, giving even more homeowners the chance to bring their remodeling dreams into reality. The brand has become synonymous with exceptional service and customer satisfaction, allowing for a positive and enjoyable remodeling experience that starts with a detailed and precise kitchen quote, and ends with a celebratory handshake for a job done completely right the first time. And every year, one DreamMaker company is given the honor of being Franchise of the Year. This 2021, that incredible recognition is awarded to DreamMaker Bath & Kitchen of Springfield.
DreamMaker Bath & Kitchen of Springfield Wins
A hearty congratulations are in order for Curt and Deb Trampe. They lead DreamMaker Bath & Kitchen of Springfield and have been valued members of the DreamMaker family since 2006. But before all these, Curt had his own business back in the late 1990s–a traditional home remodeling company that functions as a 'jack of all trades' because of its extensive range of services. But the company needed to have a set goal and a streamlined process, which made the switch to a DreamMaker franchise an inevitability.
"DreamMaker was attractive to me because they focused exclusively on the profitable fields of kitchen and bathroom remodeling, which was appealing after my previous unspecialized business experience," says Curt. "This reduced scope of work and specialization also led to the potential for higher margins and profit compared to my previous business." 
Curt also finds it valuable that all DreamMaker franchises operate with the same effective and repeatable model. This model includes the Safe Remodeling Process, which covers the minute aspects of the renovation. From estimating the bathroom cost and finalizing the design plan, to performing the actual remodeling work, the DreamMaker team will be there to guide you every step of the way. 
You Can Always Expect Quality from DreamMaker
Every DreamMaker franchise, including DreamMaker Bath & Kitchen of Hollywood, works to exceed your expectations, and provide you with a positive and enjoyable remodeling experience. Combining exceptional products and creative solutions, plus a customer-centric approach, our skilled and experienced team can create beautiful, functional, and efficient living spaces that are fine-tuned to meet your lifestyle needs. Look no further for quality services that you'd recommend to a friend.
Start a Conversation Today!
Dreammaker Bath & Kitchen of Hollywood is the "reliable contractor near me" you're looking for online. Whether you want to update a contemporary kitchen or switch to a contemporary bathroom, you can always expect the best results. After all, it is our mission to bring your remodeling dreams to life in the best way possible. Call us today at (305) 425-1700 or fill out this contact form to schedule your virtual consultation. Do you want to see what we have firsthand? Our design center is open to serve you on weekdays, and on Saturdays (by appointment). We serve the areas in and around Hollywood, Hallandale Beach, Aventura, Golden Beach, Pembroke Pines, FL.