---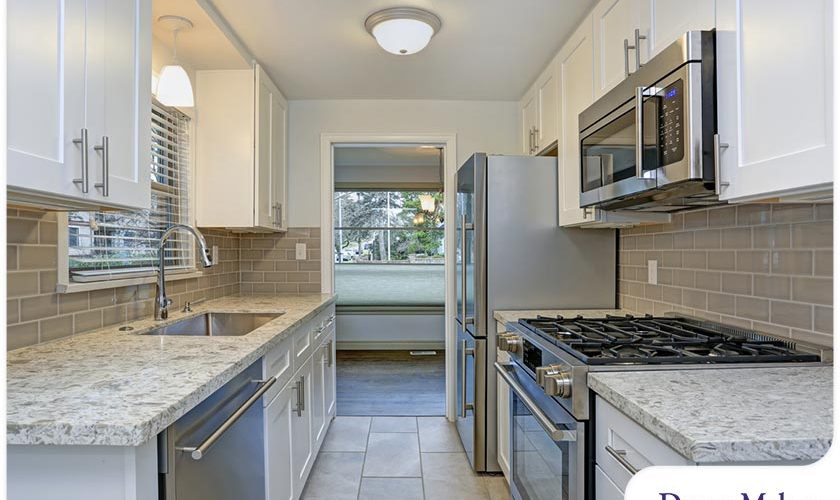 ---
As one of your home's focal points, it's important to pick a good layout for your kitchen so that you can fully utilize it and maximize resale value if you plan to sell your home in the future. One of these layouts is the galley kitchen. It's a great layout for small kitchens because it allows you to have a lot of storage and work area to maximize the space.
In this post, DreamMaker Bath & Kitchen of Hollywood, a top kitchen remodel specialist, helps you decide if the galley kitchen layout is a great fit for your home.
Perks of the Galley Kitchen Layout
The galley kitchen layout is the ideal choice for homes with limited space, or if the layout of your home is long instead of wide. Since the preparation and work areas are in close proximity, transitioning between spaces requires little effort. To ensure maximum efficiency, make sure the width of your corridor doesn't exceed six feet.
Another great perk of galley kitchens is that they don't cost as much as other kitchen renovation projects. The prerequisites for this project are appliances, base and overhead cabinets, and countertop slabs placed on one or both sides of the kitchen space. In turn, this leaves you a lot of room in your budget to spend on other kitchen fixtures like lights and faucets.
Considerations When Designing a Galley Kitchen
Here are a few considerations if you plan to transition into the galley layout:
Keep it simple. Islands, breakfast bars and other features don't fit in galley kitchen layouts. Keep it simple by utilizing functional elements like cabinets, countertops, sinks and the dishwasher.
Double-check your sink size. Galley kitchens feature scaled-down sinks that are set parallel to the counter. Avoid picking sinks that are angled at 45 degrees or farmhouse kitchen sinks.
Maximize your storage. To maximize your kitchen storage, extend the height of your upper kitchen cabinets to the ceiling. You can maximize your storage space even with limited space.
Let's Start a Conversation!
DreamMaker Bath & Kitchen of Hollywood offers a full-service remodeling approach, so you can rest assured that our team can take care of all your home remodel needs. Call us at (305) 425-1700 or contact us online to schedule a consultation. We serve customers in Pembroke Pines, Davie, Hallandale Beach and many other communities.