---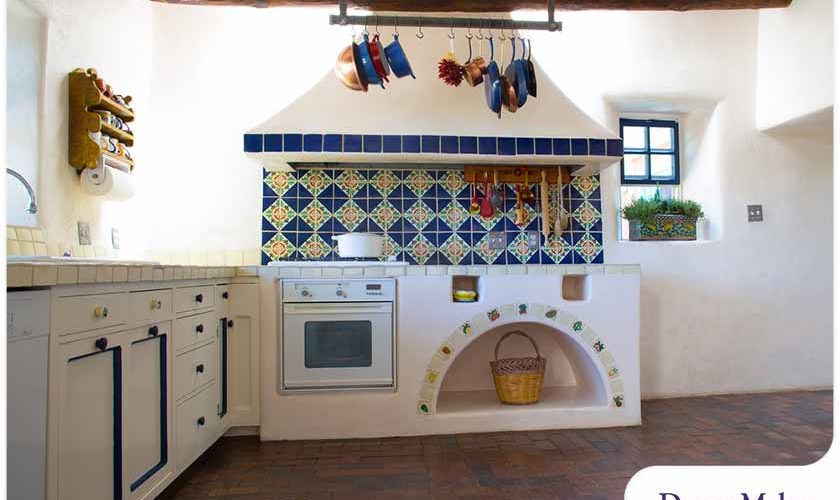 ---
Southwestern homes often feature bold color combinations, repetitive geometric patterns, wood beams, stucco and other rustic materials. A kitchen in this style gives off a warm, relaxing feel despite having a simple design. Here are tips on how to achieve a Southwestern kitchen from an interior remodeling expert. 
Consider Talavera Tile
Talavera tiles get their name from their city of origin, Talavera de la Reina in Spain, but they are more widely used in Mexico. They are handpainted and intricately patterned with symmetrical or geometric designs and representations of nature. Using Talavera tiles is a great idea if you are going for an authentic Southwest-style kitchen. You can use them as an accent or for a larger part of your kitchen.
Add Saltillo Flooring
Saltillo floor tiles are a type of clay paver that gives any space a more rustic look. Spanish or Italian saltillo is harder and more durable than Mexican saltillo. It also lasts longer and is more resistant to damage caused by foot traffic. To ensure the tiles stay strong, make sure they are sealed before installation and after they have been laid in and grouted. 
Select the Right Finishes
It's better to choose old-style finishes for plumbing and lighting. Avoid chrome or satin chrome and other polished finishes. In your kitchen, consider copper or oil-rubberized bronze faucets and light fixtures. As one of the area's best remodeling contractors, you can depend on DreamMaker Bath & Kitchen to help you choose the right finishes for your kitchen. 
Choose the Right Color Palette
The color palette of the Southwestern style mimics the American desert. These colors include terracotta, rust, sand, bright red, sky blue, mahogany brown, sky blue and cactus green. Most of these colors complement each other. If you prefer warm-colored walls, you can accentuate them by hanging blue, green or red artwork. 
The Small Details Matter
The small details will make a huge difference in the overall appearance of your kitchen. For instance, with some research, you can find punched tin cover plates for light switches. You can also have the handles of drawers and doors changed to wrought iron.
Let's Start a Conversation!
For all your kitchen remodeling needs, turn to DreamMaker Bath & Kitchen of Hollywood. We're also here to help with your home office remodel or cabinet refacing. Call us at (305) 425-1700 or contact us online for a no-obligation consultation. We serve homeowners in Dania Beach, Davie, North Miami Beach and other nearby communities.